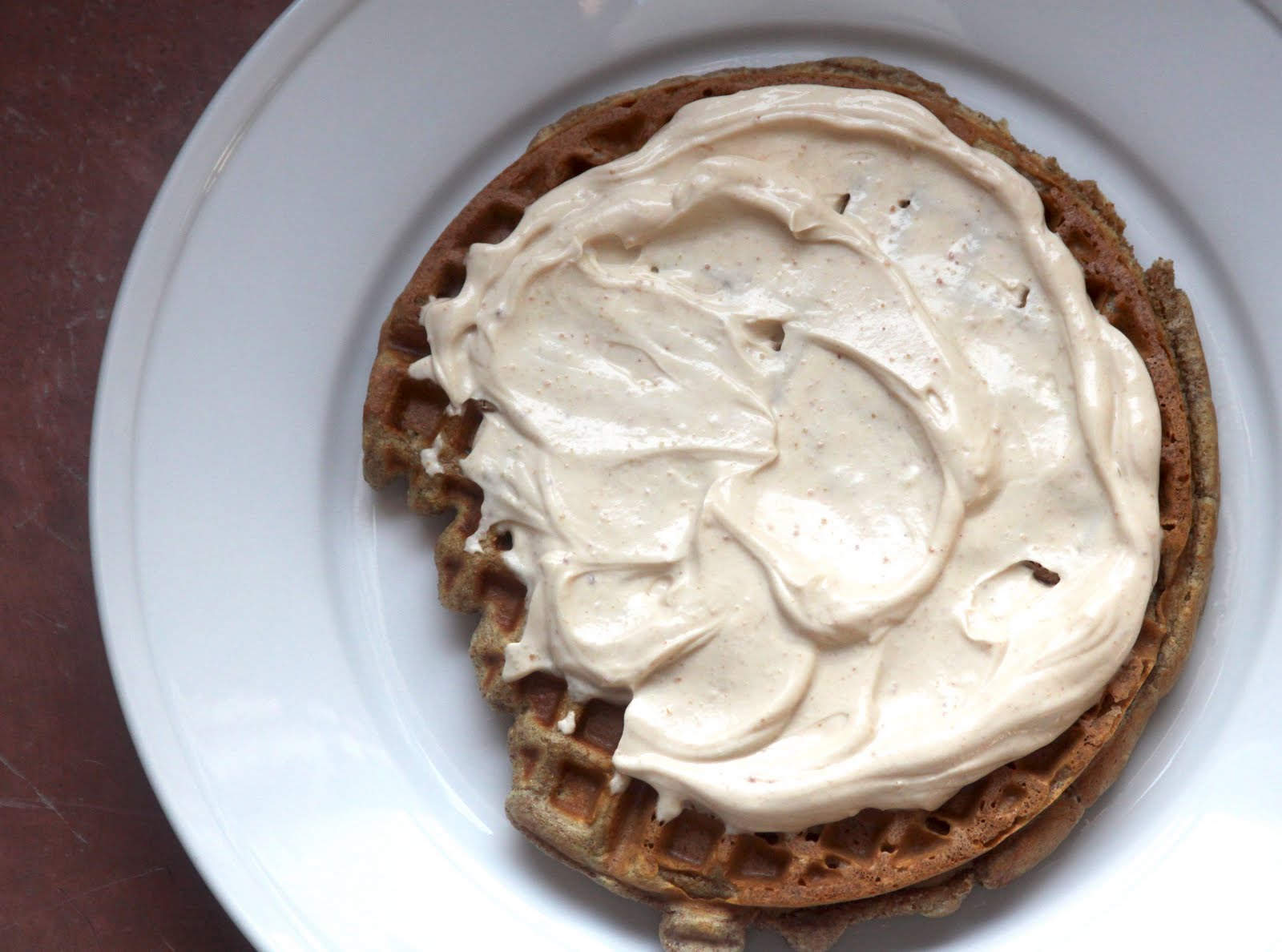 Wow! Thank you all so much for your enthusiastic response to the giveaway. I wish I could give every one of you an ice cream maker. Alas, I have to choose just one person, and that person is….
Congrats, Ashley! E-mail me (madisonjanemayberry@gmail.com) with your name, address and your selection of which type of ice cream maker you would like and I will get it to you asap!
Last weekend I found myself making waffles for the first time with our new waffle iron, only to realize halfway through that we were out of maple syrup. Typically, when I'm trying to keep sugar and calories down, I opt for the artificially sweetened bottled light pancake syrup or sugar-free pancake syrup. But on Saturday I didn't have anything remotely close to syrup and was too lazy to make my way to the store.
Instead, I whipped up this creamy peanut butter spread. While it's not quite as drippy as syrup, its thicker consistency does prevent it from making pancakes, waffles and other breakfast goodies from becoming soggy underneath and it helps to stretch the peanut butter across a larger surface. Major bonus in my book. Because although I would like to eat tablespoon after tablespoon of peanut butter, my hips and thighs beg me not to.
After I made this spread, I imagined that it would make a delicious dip for pretzels or fruit, or a great spread atop toast. And if you sprinkled a little granola and chocolate atop it, I can only imagine it would be perfect on its own, too.
Peanut Butter Spread
Ingredients
*4 oz. plain, 2% Greek yogurt
*1 tablespoon natural, creamy peanut butter
*1/2 to 1 teaspoon stevia or brown sugar
*1/4 teaspoon ground cinnamon
*1 to 2 tablespoons milk (depending on how thick you want it)
Instructions
*In a small bowl, combine all the above ingredients. Stir until well combine. Start with 1 tablespoon of the milk, then add additional if you want a thinner consistency. Spoon over waffles, pancakes or atop toast.
Happy Cooking!
Madison