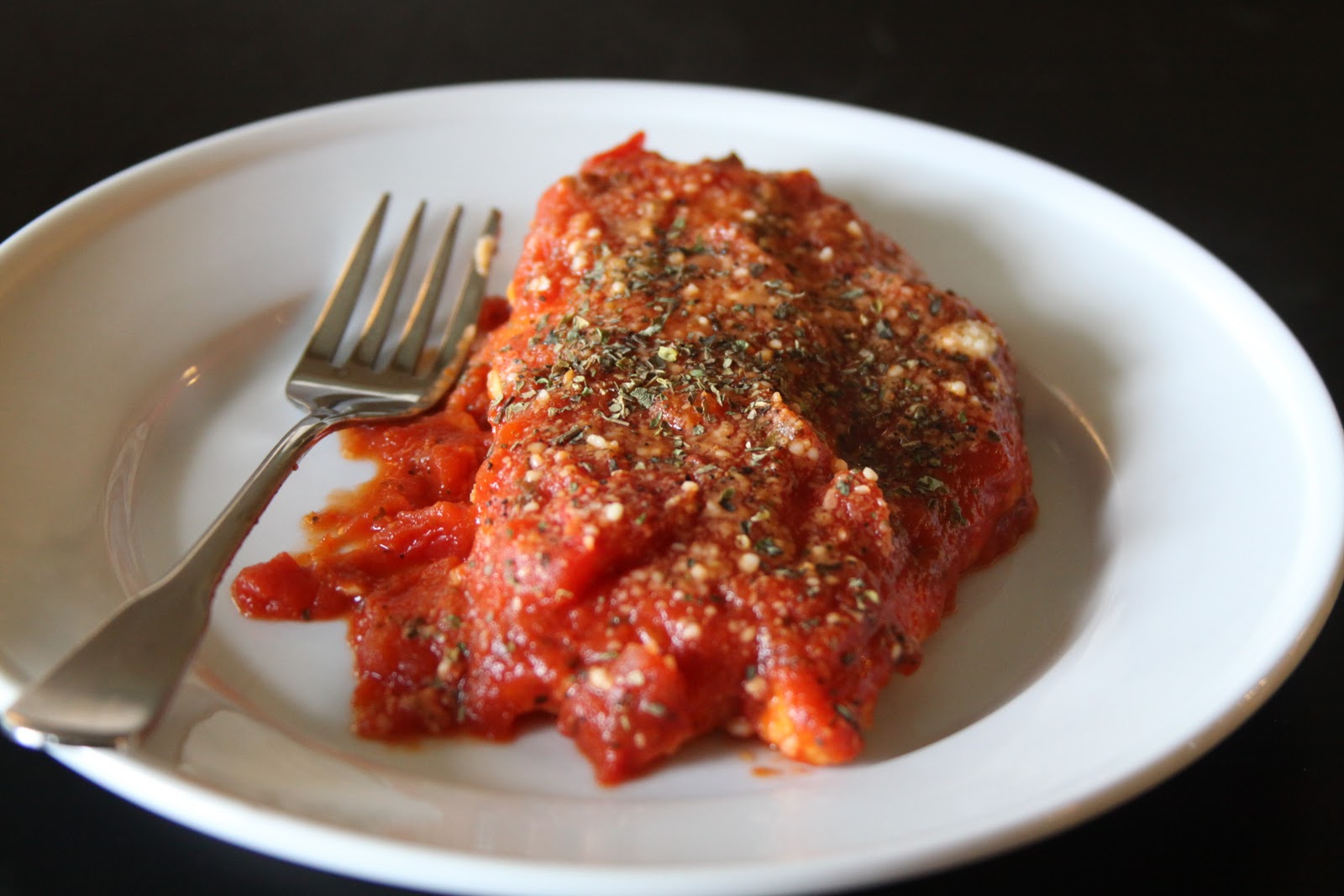 Typically, I don't set out with the intention of creating gluten-free recipes since I don't follow a gluten-free diet and neither do any of my family members. But as a food editor, I've seen a growing desire from our readers for more gluten-free recipes. Since I'm by no means an expert on the subject of gluten-free eating, it's a bit intimidating to attempt creating recipes that meet the parameters of avoiding all gluten.
In the future, I hope to be able to serve up more gluten-free recipes, since I know a number of Espresso and Cream readers are looking for more recipes of the sort. So when my cousin sent me a few bags of quinoa flour, which is gluten-free, I decided to get to work on playing around with recipes that could be easily adapted from their gluten-packed counterparts.
Chicken Parmesan to the rescue! Although you won't find me eating any chicken these days, Joey absolutely loved this dish. I served it with some veggies and pasta and it was a total hit: easy to prepare for me and super tasty and filling for him. That's a win-win in my book.
Also, if anyone has any good gluten-free text resources (ie: books, informative cookbooks, etc.) about gluten-free recipes and what ingredients contain gluten, please throw them my way. I'm looking for some good resources to add to my collection!
Gluten-Free Chicken Parmesan
Ingredients
*1 tablespoon canola oil 
*1 chicken breast, halved lengthwise into two thinner pieces
*2 heaping tablespoons quinoa flour (you may use all-purpose if you want but it won't be gluten-free)
*1/4 cup grated Parmesan cheese
*Salt and black pepper
*1/3 cup liquid egg replacement such as Egg Beaters
*2/3 cup pasta sauce (for a list of pasta sauces and other products that are gluten-free and commercially available, I found this site helpful.)
*Additional Parmesan cheese
*1/2 teaspoon dried Italian seasoning
Instructions
*Preheat oven to 350°F. Line a baking pan (I used an 9-inch round cake pan) with aluminum foil. Set aside.
*Heat the oil over medium-high heat in a nonstick skillet.
*Meanwhile in a shallow dish combine the quinoa flour, Parmesan cheese, and a dash of salt and black pepper. Pour the liquid egg replacement in a second shallow bowl. Dip the chicken breast halves into the egg mixture to coat on both sides. Transfer to the flour/Parmesan mixture and cover on both sides.
*Add chicken pieces to the skillet. Cook for 2 minutes per side. Just enough to brown the chicken but not cook it completely through.
*Transfer chicken to the foil-lined baking pan. Top with the pasta sauce, spreading the sauce evenly atop the chicken. Cook for another 15 to 20 minutes, until pasta sauce is bubbly and chicken is cooked through. Remove from oven and top with additional Parmesan cheese and the dried Italian seasoning.
Happy Cooking!
Madison