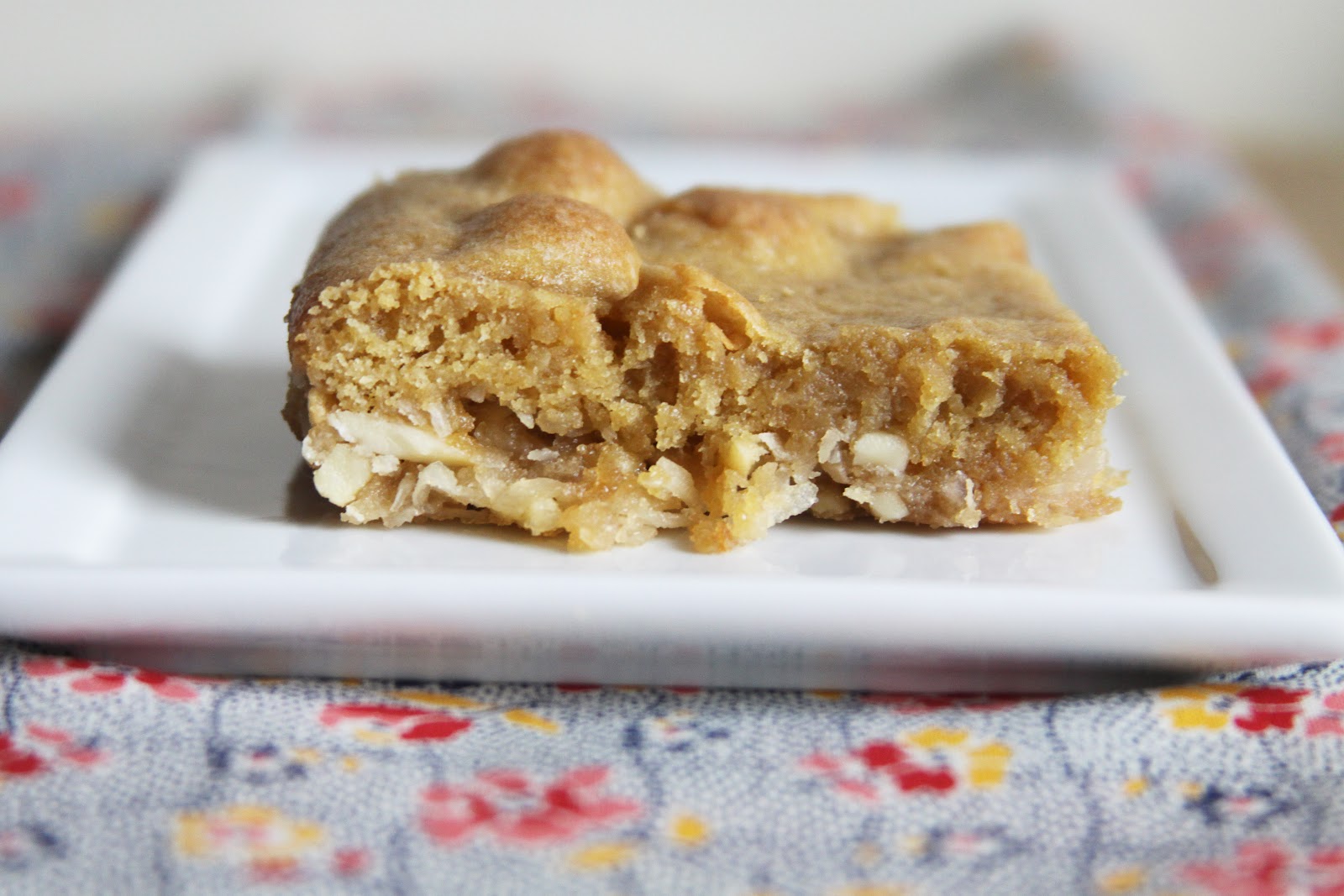 Happy 'Day After Valentine's Day,' everyone! How did you spend yesterday? Joe and I aren't much for fighting the crowds of people on February 14th. Instead, we opted to take Nutmeg on a walk when we got home, make dinner together (salmon, asparagus, garlic rye toast) and watch The Biggest Loser. Pretty great night if you ask me!
Now moving on to matters related to blondies…
Working for a publishing company, magazines, bookazines and cookbooks are never in short supply. All the new publications land on our administrative assistant's desk, which I frequently scan. A couple weeks ago, I found a Better Homes and Gardens Special Interest Publication called 'Our Best Desserts'. If you can get your hands on a copy, I highly suggest doing so.
And as usual, the recipe I made first was dependent on the ingredients I had on hand. But since I was short on pecans, I swapped them for slivered almonds. And since ice cream was lurking in our freezer, it got tossed into the mix, too. I've yet to find a dessert that doesn't taste better with ice cream.
I served these blondies when Joe's parents were visiting a couple weeks ago, and they were a huge hit. Although you can't see from the photos, there are marshmallows stirred into the batter for extra chew, and the coconut, butter, brown sugar, and almond mixture you press into the pan before the batter makes for a caramelized, chewy crust underneath the actual blondies.
Oh, and did I mention that these bars actually taste better as the days go by? Well, they do. I was able to slip a bar into Joe's lunch for about a week without feeling like the flavor or texture suffered. Which is a major win in my book.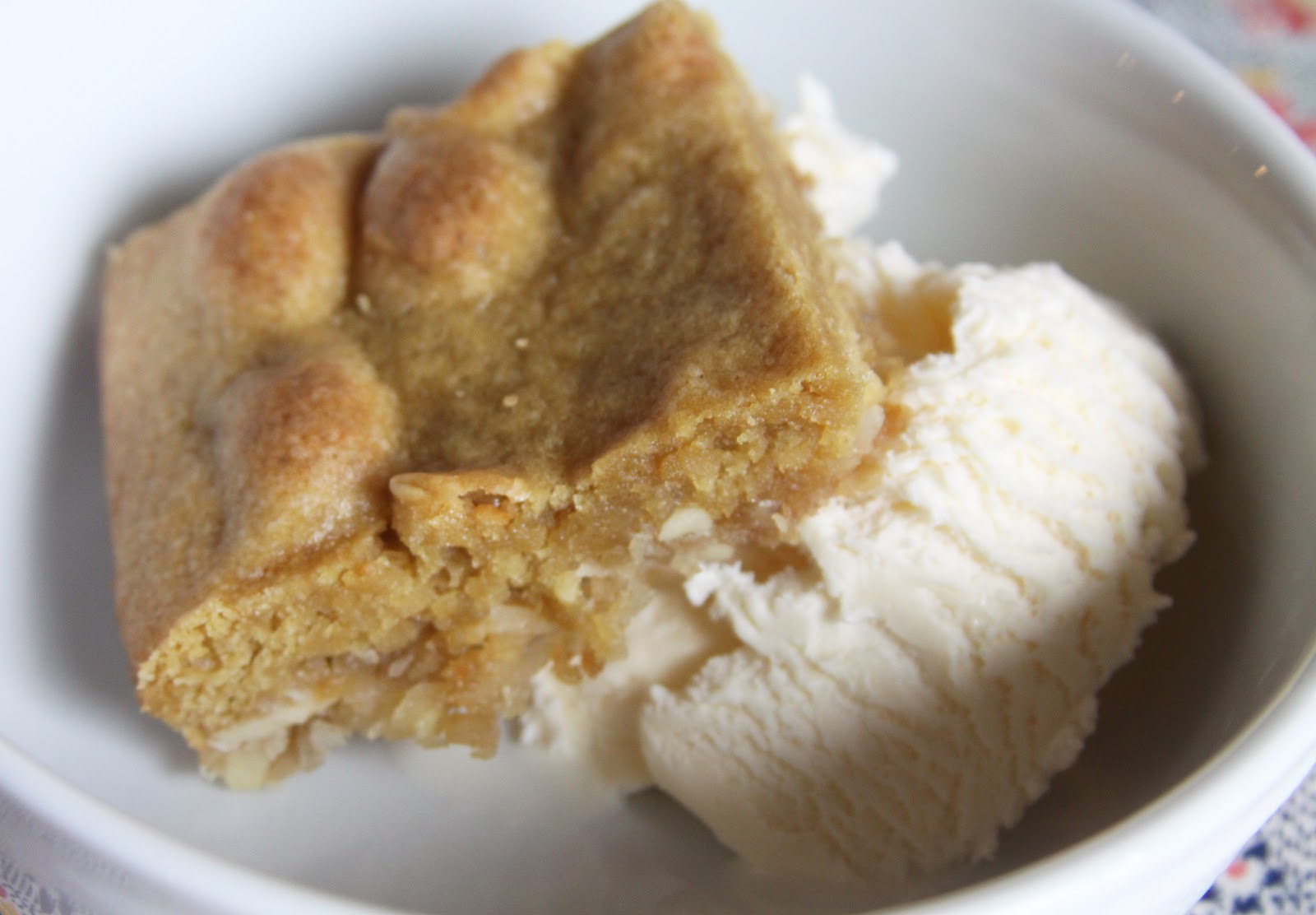 Coconut Caramel Blondies
Adapted from Our Best Desserts bookazine
Ingredients
*1/3 cup butter, softened
*1 1/2 cups sweetened flaked coconut
*3/4 cup slivered almonds
*2/3 cup packed brown sugar
*1/2 cup butter, softened
*1 cup packed brown sugar
*1/2 teaspoon baking soda
*1/4 teaspoon salt
*3 large eggs
*1/2 teaspoon vanilla extract
*1 1/2 cups all-purpose flour
*1/2 cup tiny marshmallows
*Vanilla ice cream (optional)
Instructions
*Preheat oven to 350°F. Lightly grease a 13x9x2-inch baking pan. Set aside. In a small saucepan, heat the 1/3 cup butter over medium high heat until melted. Stir in the coconut, almonds and 2/3 cup brown sugar. Press mixture evenly onto bottom of prepared pan. Set aside.
*In a large bowl, beat the 1/2 cup butter with an electric mixer on medium to high speed for 30 seconds. Add the 1 cup brown sugar, baking soda and salt. Beat until combined, scraping down sides of bowl occasionally. Add eggs and vanilla. Beat until combined. Beat in flour until combined. Stir in the marshmallows until they are completely coated with the batter. Carefully spread mixture over the coconut layer.
*Bake about 25 to 28 minutes or until top is evenly brown. Center may jiggle slightly when gently shaken. Cool in pan on wire rack. Cut into bars. If desired, serve with ice cream.
Happy Baking!
Madison