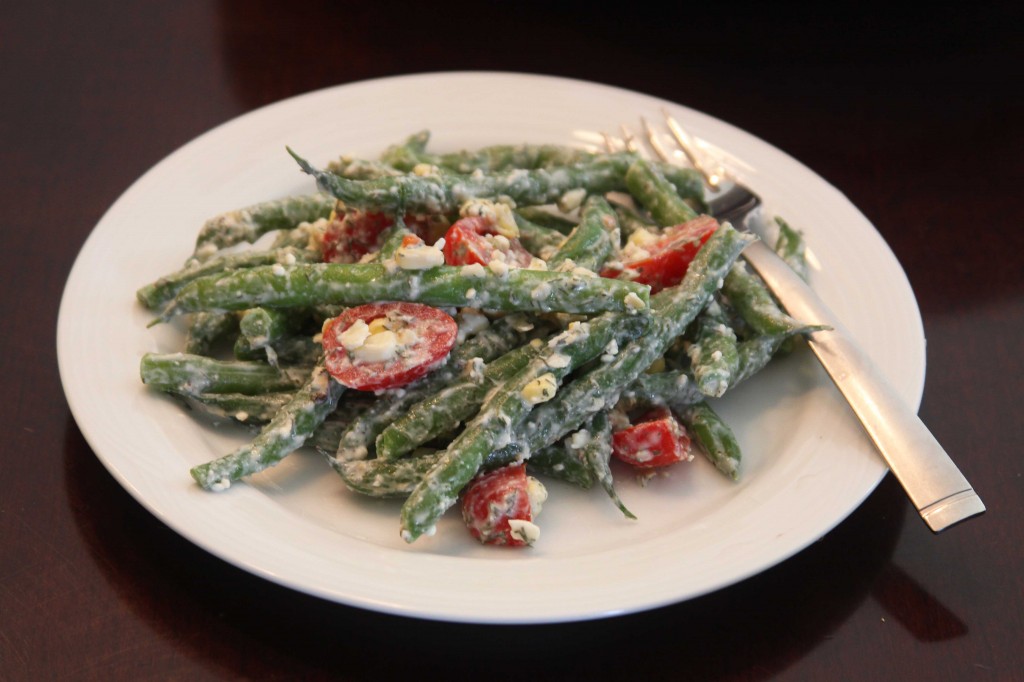 Hey everyone! I hope you're having a wonderful weekend. Joe and I are on our way back from visiting Jason and Ali in Kansas City and helping them move into their new apartment and I'm now (er…was) blogging from the car. Thank you so much for your helpful words and advice about racing in Friday's post. I kept all your tips in mind as we ran, and am happy to report that I had a really successful race. Instead of getting myself freaked out and anxious, I stayed calm and ran my race at a pace that felt comfortable to me, finishing 12.4 miles in 1:54:44! Hopefully I can use that momentum and experience and carry it on to the half we're running in a couple weeks.
I've been meaning to share this recipe with you for a couple weeks now. My mom and I made it when I was back in Orange City a few weeks ago for Tulip Festival. She found the original recipe on the Whole Foods website, and I couldn't resist snapping a photo after taking a few bites. Not only was the salad incredibly simple, it was also super fresh and tasted like summer, thanks to the use of raw corn, fresh green beans and a simple dressing with lots of fresh dill.
Since my dislike of mayonnaise is well documented, you're well aware that I don't like mayo-based salads. However, I love the idea of a fresh summer salad that can easily be transported to potlucks and grill-outs. Instead of using mayonnaise, this salad gets its creaminess from crumbled feta or goat cheese (goat cheese will make it creamier, while feta will be slightly more textured) combined with lemon juice, apple juice and lemon zest. It's a crazy-good combination that will have you coming back for seconds.
Green Bean Salad with Feta Dressing
Recipe adapted slightly from WholeFoods.com
Ingredients
*1 lb. green beans, trimmed
*2 oz. crumbled feta cheese or goat cheese (I used feta)
*Zest of 1 lemon
*1 tablespoon lemon juice
*2 tablespoons apple juice
*1 garlic clove, minced
*1/4 teaspoon freshly ground black pepper
*1/3 cup chopped fresh dill, divided
*3/4 cup fresh (raw) corn kernels
*1 cup cherry or grape tomatoes, halved
Instructions
*In a large pot, bring water to a boil. Add green beans and cook until crisp-tender, about 2 to 3 minutes. Drain and cool in a bowl of ice water. Drain again and pat dry.
*To make the dressing, whisk together the cheese, lemon zest and juice, apple juice, garlic and pepper in a small bowl. Toss green beans with half the dressing and half the dill and spread on a platter. Top with corn and tomato. Drizzle with remaining dressing and sprinkle with remaining dill. Makes 4 servings.
Happy Cooking!
Madison