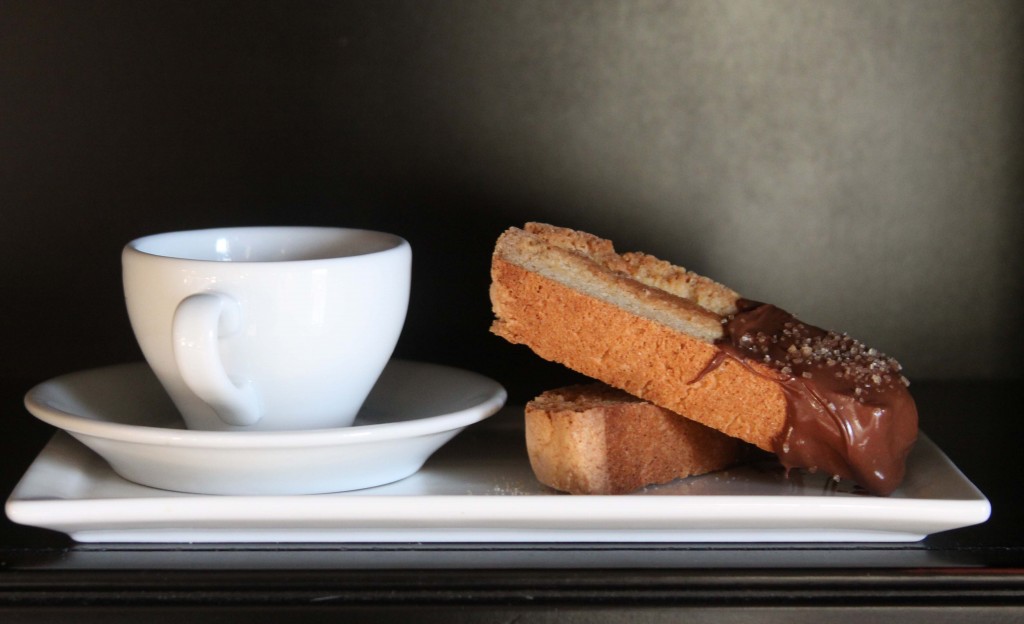 Thank you to everyone who entered the Savory Sweet Life Cookbook giveaway! The winner is announced at the end of this post. But before I get to that, I wanted to talk a little bit about food photography. I'll be the first to admit that my photos aren't anywhere near those of some other amazing food bloggers. Since I work full-time, I'm limited with when and where I can photograph recipes, and don't even get me started on winter food photography when it gets dark at 5 p.m. Summer months are easier, since there's good light in the morning and at night after I get home from work, but it's still a challenge.
But what I really need to work on is my patience and developing a willingness to stick with a photo/recipe until I get the lighting and propping just right. Sometimes I feel happy if I manage to simply photograph the recipe once, let alone take multiple passes at the same shot. Do other bloggers feel me on this one?
Let's be honest, my last photo of Savory Sweet Life's Watermelon Feta Salad wasn't the greatest. Alice even warns against over-mixing the feta and watermelon, saying that it makes the dish look unappetizing. Somehow, I still managed to over-mix and the photo shows it well. So I decided to give one of Alice's recipes another go. And besides, the biscotti were just calling my name and seemed like a perfect way to end the night with a cup of decaf. I'm not entirely sure why I've never made biscotti before, but I'm glad I did. This recipe is incredibly easy and ultra-tasty, with just the right amount of almond flavor and a pleasant crispness that gets better when dipped in coffee.
Back to the photos. Here's a look at my first pass at photographing the biscotti yesterday…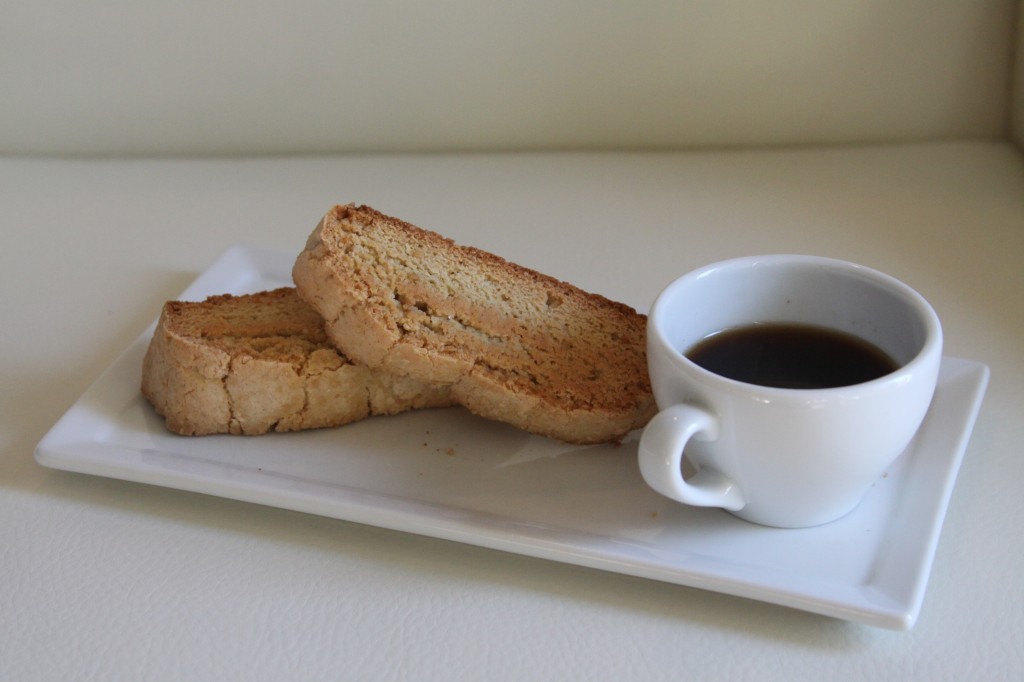 Pretty bland, right? It's not fuzzy or out of focus, but the white background I usually love with colorful food did nothing for this golden biscotti. There's no sense of drama, place or color in this lifeless photo. Normally, I would call it a day with this photo and say it was good enough. But I knew the recipe had the potential to create a beautiful photo, much more beautiful than the photo above.  So I gave it another try this morning. I dipped the biscotti in chocolate and garnished it with a little coarse sugar, then attempted to photograph the biscotti in-process on my Silpat. It looked like this: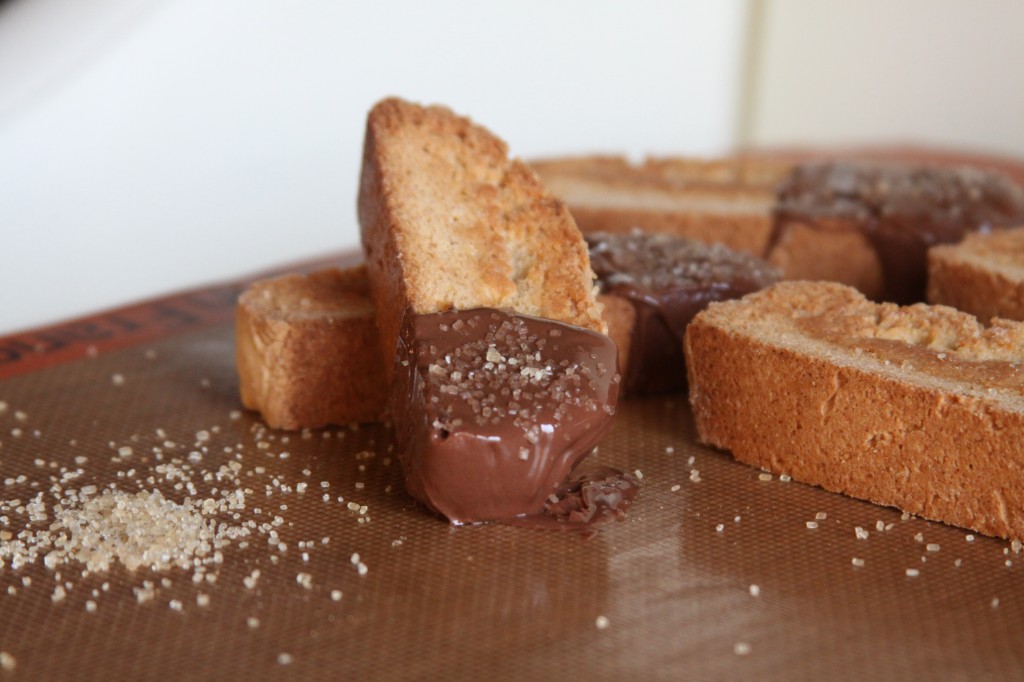 I actually kind of life this photo, and would be happy to post it. It's natural, real and a totally looks like it came from my kitchen. But since it's biscotti, which I consider to be a somewhat formal and dignified cookie, I wanted to create a bit of drama with a dark background and re-introduce the espresso cup and saucer with a dark background. So I ended up here…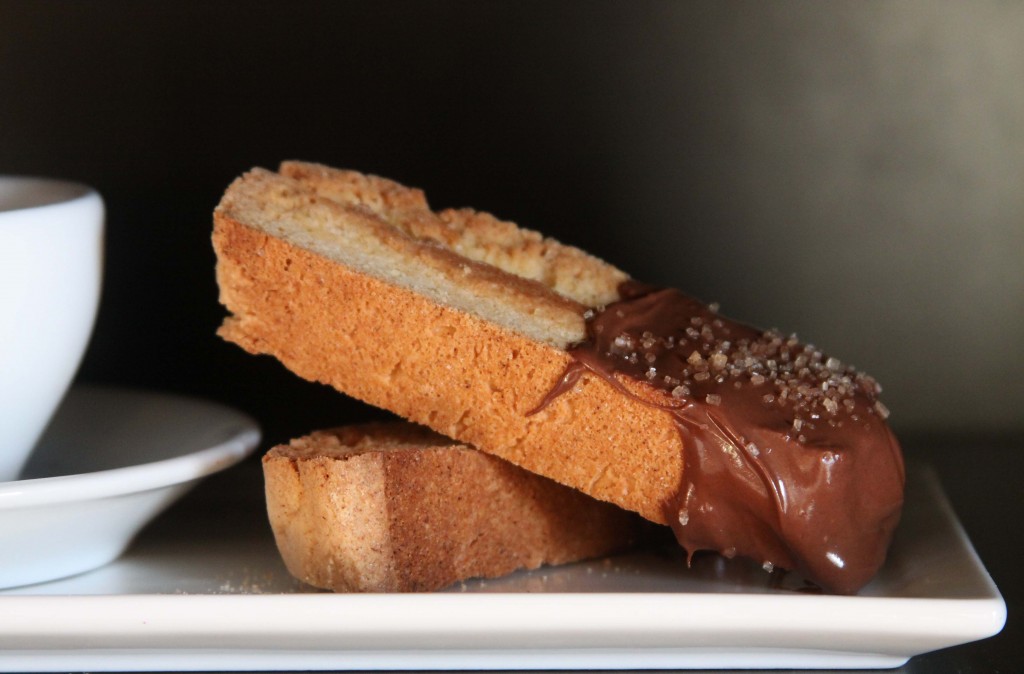 That feels right, doesn't it? Thanks for taking a little photography trip with me. I still have so much to learn, but it's fun to see how my photography has changed since the first days of the blog when I was using a point-and-shoot camera in my sorority kitchen. Yikes!
The winner of the Savory Sweet Life Cookbook is….

Congrats, Theresa! Send me an e-mail (madisonjanemayberry@gmail.com) and I'll get your book sent out!
Pint-Size Biscotti
From the Savory Sweet Life Cookbook
Ingredients
*1 cup granulated sugar
*2 large eggs
*1/4 cup vegetable oil
*1 tablespoon almond extract
*1/4 teaspoon ground nutmeg
*2 cups all-purpose flour
*1 teaspoon baking powder
*Milk chocolate and coarse sugar (optional)
Instructions
*Preheat oven to 375°F. Line a baking sheet with a Silpat or parchment paper. Set aside.
*In a medium bowl, combine the sugar, eggs, vegetable oil, almond extract and nutmeg until well combined. Add the flour and baking powder and knead the mixture with your hands until a heavy, workable dough forms.
*On a lightly floured surface, use your hands to shape and roll the dough into a 12-inch-long log. Transfer the log to the center of the baking sheet. Flatten the dough to form a 1/2-inch thick rectangle that's a bit thicker in the center and thinner on the long sides.
*Bake for 25 minutes, or until firm to the touch. Leaving the oven on, remove the biscotti loaf, on the parchment, and place it on a cutting board. Let it cool for 5 to 8 minutes, until cool enough to touch but still warm.
*Cut the loaf crosswise into 1/2-inch-thick slices. Place the slices on the baking sheet, lined with the parchment paper, cut side up, and bake for 8 minutes. Flip the biscotti over and bake for 8 minutes more. Let the biscotti cool completely on a wire rack before serving.
Happy Baking!
Madison