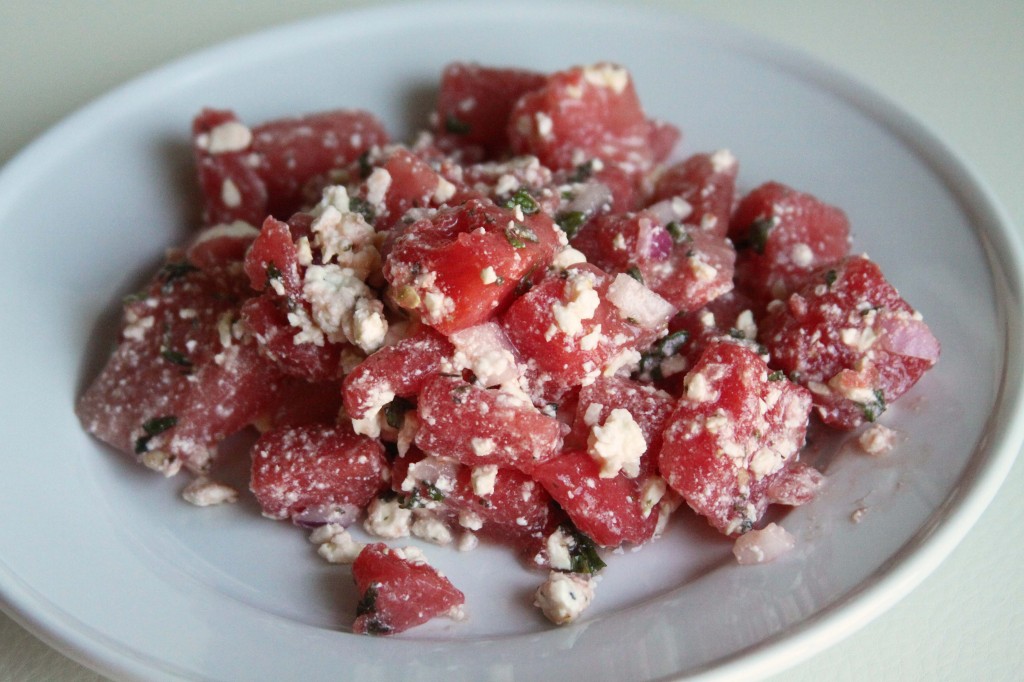 I'd like to take a minute to introduce you to someone I feel like I know, Alice Currah. Alice, who blogs at Savory Sweet Life, has a passion for food and feeding people that's hard to miss when you visit her site. I've exchanged Tweets and blog comments with Alice for a while now, and was trilled when she announced that she was publishing a cookbook. As a mother of three kids, I anticipated the recipes in her book to be easy, approachable, and downright tasty.
 When Alice asked me if I would like to receive a copy of her book to review, I couldn't wait to get my hands on it and start cooking. The book arrived at our house right before Memorial Day weekend – the perfect time to do a little cooking and try out a new recipe. Joe and I had a little cook-out for the two of us on Memorial Day, and I let him pick out what recipe he wanted me to make from Alice's book. Since Joe loves watermelon, I wasn't surprised when he selected Alice's Watermelon Feta Salad.
Seeing how easy the recipe was immediately sucked me in. Although I was a bit skeptical of the flavor profile (watermelon, feta, mint, lime juice, oh my!) of this salad, I figured it was worth trying. Turns out Alice knows what she is doing in the kitchen, and this salad was a hit at the casa de Hofmeyer. Even a sworn watermelon-hater like myself could see the beauty of this sweet and salty combination.
Next time I cook from Alice's book, I've got my eye on making the Banana Cream Pie or the Black Beans and Brown Rice. Honestly, I don't mean to gush, but every recipe I read in the book was so approachable that I wanted to make it that very instant.
The best news? Alice's publisher has kindly agreed to give a copy of The Savory Sweet Life Cookbook to one lucky Espresso and Cream reader! To enter, leave a comment between now and Friday, June 8th at 4 p.m. telling me what you're most looking forward to eating this summer. A winner will be announced on Friday night!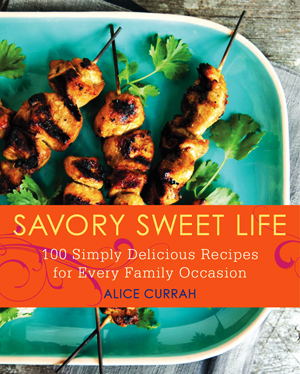 Watermelon Feta Salad
Ingredients
*6 cups cubed watermelon
*1 cup crumbled feta cheese
*1/4 cup thinly sliced red onion
*1/4 cup chopped fresh mint
*1/4 cup fresh lime juice
*1 tablespoon olive oil
Instructions
*Combine the watermelon, feta, onion and mint in a large bowl. Pour the lime juice and olive oil over the watermelon mixture and toss gently to coat. Serve immediately.
Happy Cooking!
Madison