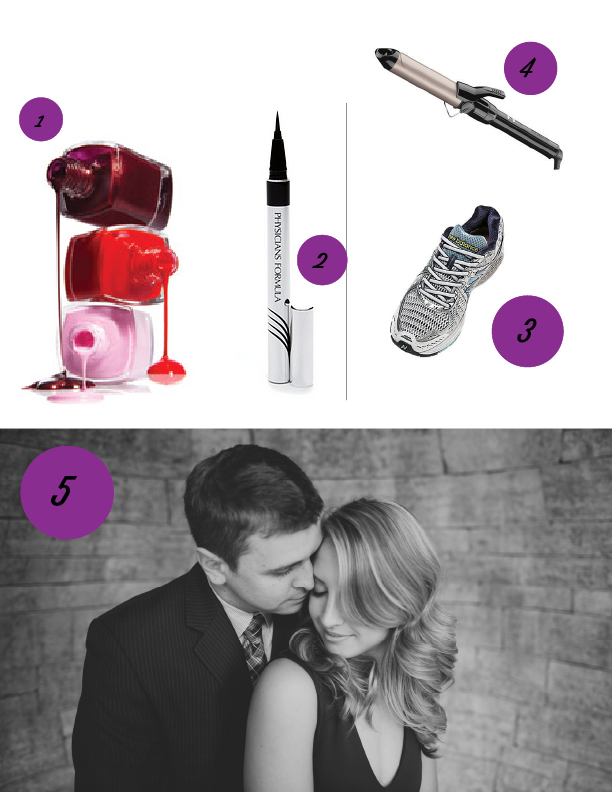 Who: Justine
What: Writer and Social Media Pro
Where: NYC
Blog: Stop Me if You've Heard This One
Hi, E&C-ers! My name is Justine, and I blog about life, love, and awkwardness over at Stop Me if You've Heard This One. (Some of you may remember me from my No Fat Talk post back in February.) I'm so thrilled to be contributing to Madison's "What 5 Things Make You Feel Beautiful?" segment—isn't it just like her to come up with something so upbuilding and fun?
1. Getting gussied up.
I'm pretty capable in the ways of getting dressed up and doing my own hair and makeup, but I absolutely love having someone else take care of these things for me. Nothing makes me feel fancier than getting my nails, hair, or makeup done, and I'm a pretty big fan of feeling fancy.
2. Physician's Formula Eye Booster 2-in-1 Lash Boosting Eyeliner + Serum in Ultra Black
When you have eyes that rival most cartoon deer's, you tend to gravitate toward products that help you play up that feature. This particular eyeliner claims to offer "longer, fuller, more enhanced" lashes. I don't know if that's actually true, but I do know that it comes in a user-friendly pen format that makes creating the perfect cat eye a breeze. Sold.
3. An exhausting workout
It might seem counterintuitive, but I never feel prettier than after I've completed a grueling long run or a killer lifting session at the gym and am covered head-to-toe in hard-earned sweat. It makes me appreciate everything about my body and how strong it is. (Plus, it doesn't hurt when I notice I'm lifting heavier weights than some of the boys!)
4. Conair Double Ceramic 1 ¼" Curling Iron
Even when I'm doing my own hair, I always feel my prettiest with big, soft waves. (I can't help it; it's my inner southern girl creeping out.)  Nature wanted me to have pin straight hair, but a big curling iron helps me get the perfect shape, and this particular model has a ceramic barrel is less damaging to my hair. I'm so obsessed, I even posted a tutorial on my blog about how I do it. Like I said. Obsessed.
My husband
I don't think a single day goes by without my husband telling me how beautiful he thinks I am. His admiration (for my inner andouter beauty) was such a crucial part in my overcoming so many of my own insecurities, and he's a constant reminder to me of the things I should love about myself.  A perfect example? One night, we were cuddling on the couch watching a movie and he started running his hand over my stomach. I groaned and told him to "stop playing with my fat," and he replied, "That's not what I was doing…your skin is just so soft…" How could you not love that?
Thanks, Justine, for sharing your 5 things! If you're interested in sharing your 5 things for No Fat Talk Tuesday, shoot me an e-mail (madisonjanemayberry@gmail.com) for more information! 
-Madison