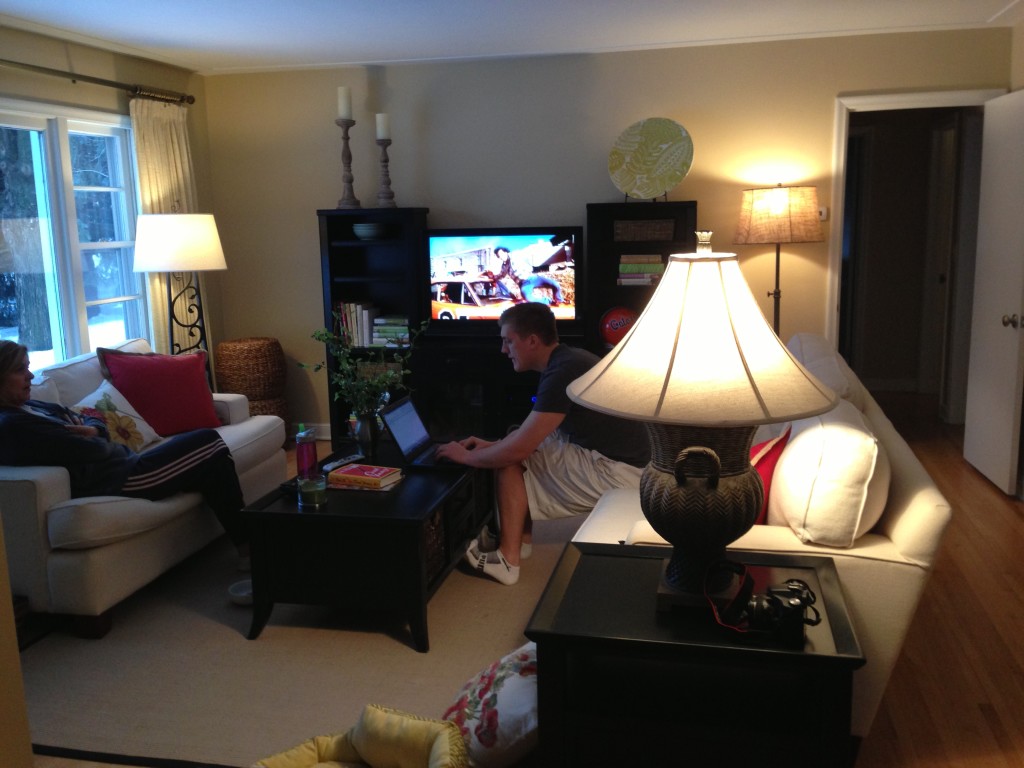 Welcome to another edition of the Espresso and Cream Home Tour. If I were a good blogger, I'm sure I would have gotten my act together and done a complete home tour series before we hit the 1 year mark in our home (on February 8th), but that's just not going to happen. I'm trying to draw this thing out and milk it for all it's worth, friends. 😉
If you're looking to get caught up, here are the other home tour posts:
The Kitchen
The Blog Room 
The Dining Room 
And now, I'm moving on to the living room! Honestly, I've been avoiding putting together the living room post because I knew we wanted to do a major overhaul of the living room. Over the past four months, Joe and I have been putting together the living room piece by piece, and I finally have the finished product to show you all! I wish I had better "before" photos, but the photo above is the best I could find off my phone. Here were our major complaints with the room in its before state:
1. The Furniture: White couches look great in a room and they're super versatile, but they're also a pain to keep clean. Our couch cushion covers weren't easy to take off and wash, and I was always worried that we were going to spill or get them dirty when guests visited. Also, I got the couch and love seat when I was a single gal living in Des Moines. Now that I have a husband and two dogs, it was much harder to keep clean.
2. The Drapes/Window Coverings: If you look at the photo above, you'll notice that the only window coverings on our large picture window consisted of drapes that were, what seemed to us, originals to our 1952 house. Surprisingly, they weren't all that horrible with our furniture and color scheme, but I really didn't like the fact that we only had two options. Our drapes were either pulled back, leaving our living room open to the outside world to peer in, or they were drawn shut, allowing no natural light to pour into the room. I was really itching for blinds that would allow us to have something in between and protect our furniture a bit from the sun's rays.
Ready to take a look at the "after" photos? Here ya go…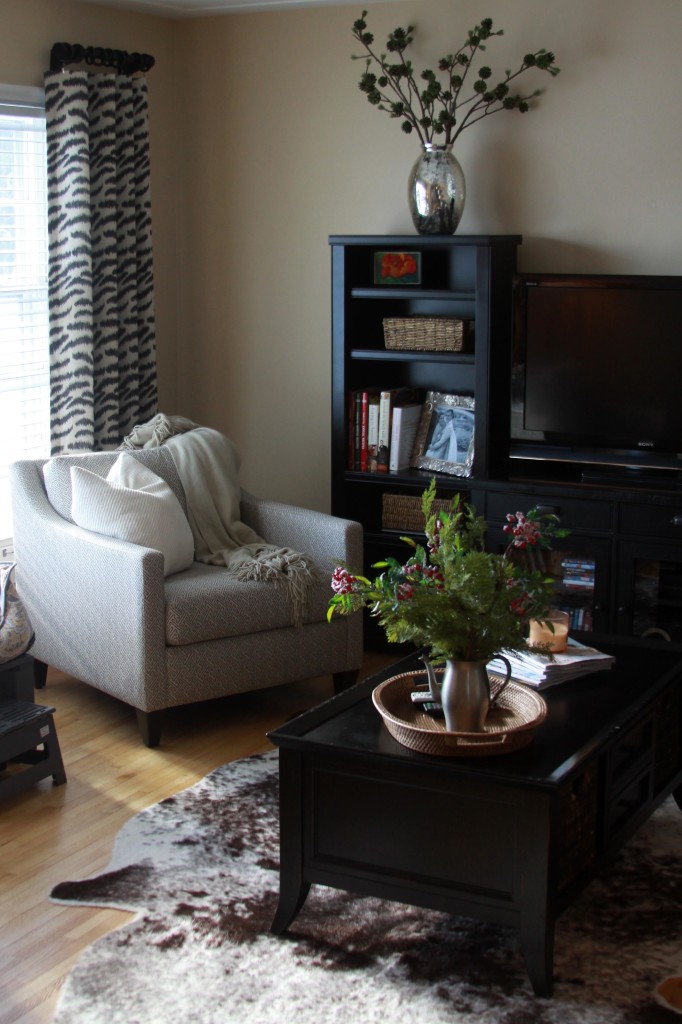 The biggest difference in the room comes from the new blinds. We purchased the white wooden blinds through Smith + Noble and they are amazing! I love being able to adjust now much light comes into the room. Although I never thought the old drapes were that bad, it's amazing how fresh and modern the room feels without them. Instead of paying the $200 installation fee Joe and I opted to install them on our own, and I'm so happy we did! It was incredibly easy!  (Side note: We have a white valance that we have yet to install in the room which will cover the tops of the blinds and hide the brackets. We just haven't gotten around to installing it yet because we need to have it cut down to fit our room.)
Although I loved the clean look of the blinds, I missed a little bit of the warmth that drapes bring to a room. To bring warmth without the heaviness of full drapes we opted to install two non-functional drape panels on either side of the picture window. There is just enough fabric to keep it warm, but not so much that it overpowers the room.
My mom helped us pull the room together and did a great job pulling patterns for the drapes. I explained to her that I really dislike color in home design but that I love mixing multiple neutral-colored patterns. These drapes totally fit with what I was looking for since they're bold enough to add some shock value but they still fit with the overall aesthetic.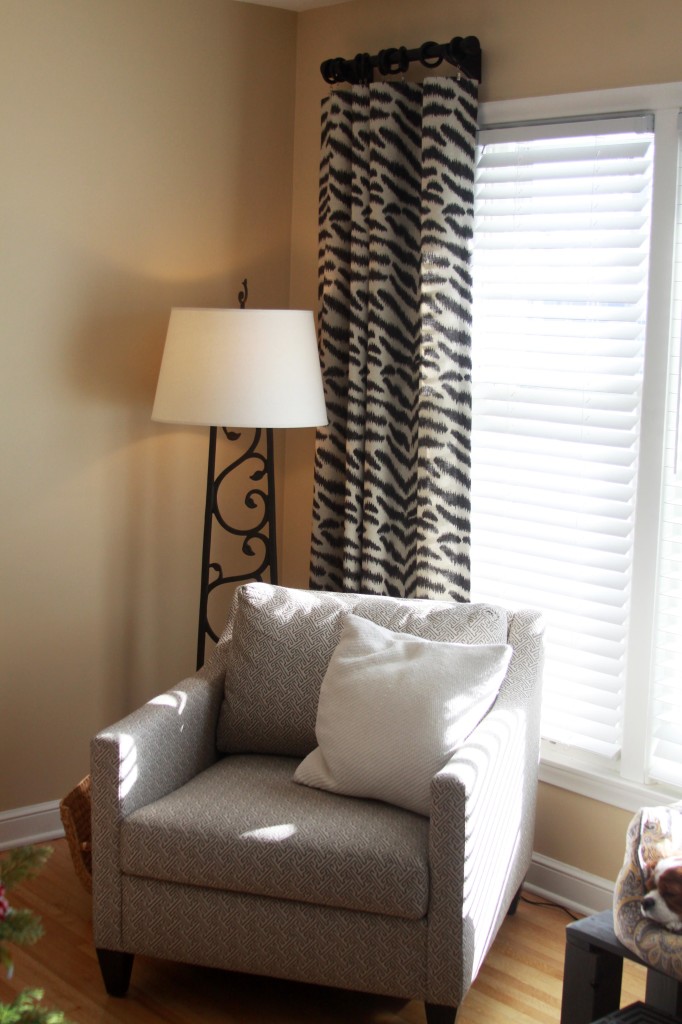 We opted to replace the love seat with two chairs from Ethan Allen, giving the room a little more open feel. And since our dogs love to sit in the sun and look out the window, our family friend helped us build a little dog bed platform out of palettes. Once we cut it to fit our space, we painted the platform in a color that fit with the room's color scheme. When we have friends over, we move the dog bed to another room and the platform functions as a coffee table. I love multi-functional pieces of furniture! Especially when they are cheap and easy to make.
Although I would have loved to replace the coffee table and entertainment center, our budget wouldn't allow us to do everything at once. We're keeping those pieces for now and will think about refreshing them down the road. We did, however, get a new rug. I had my heart set on a cow hide rug for the longest time. Once Saturday I went to Homegoods to search their rug inventory and was shocked and excited to find exactly what I was looking for! The rug is artificial but it looks great and was much more affordable than a real cow hide rug.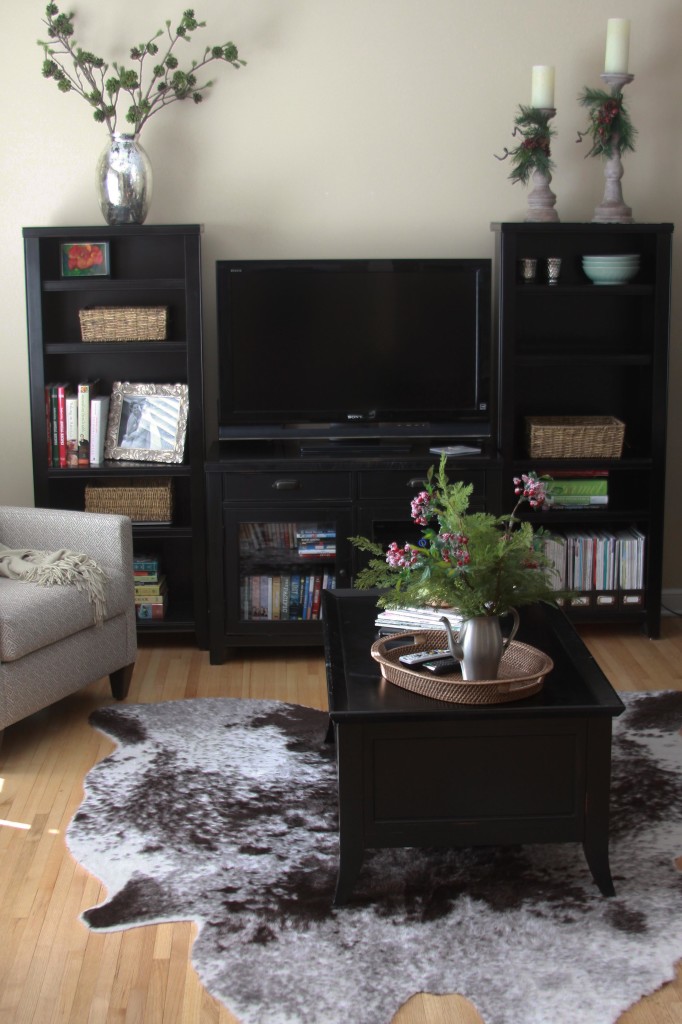 Finally, our sofa is the Henry sofa from West Elm. We opted for the 72-inch sofa and it's a great fit for our space. I realized that I don't have a great shot of the sofa, but it's incredibly versatile and super comfortable. Plus, it's really easy to keep clean and doesn't show spots or stains nearly as much as our previous white couch. Major win!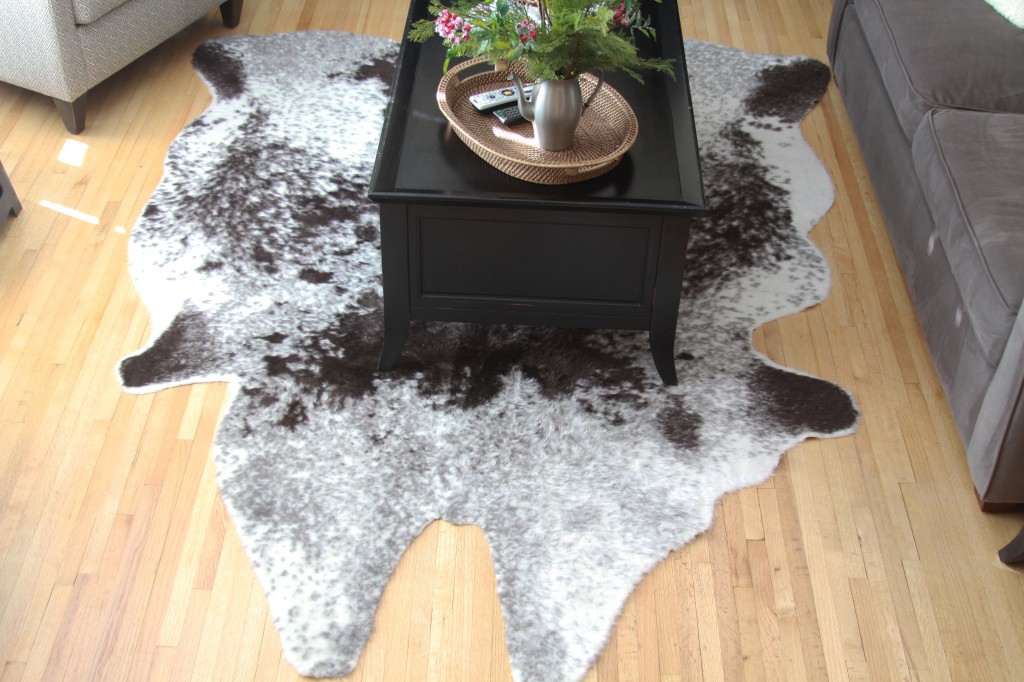 If you're still with me after this monster post, thank you! Sorry for being so long-winded, but there was so much to say about a single room!
Madison