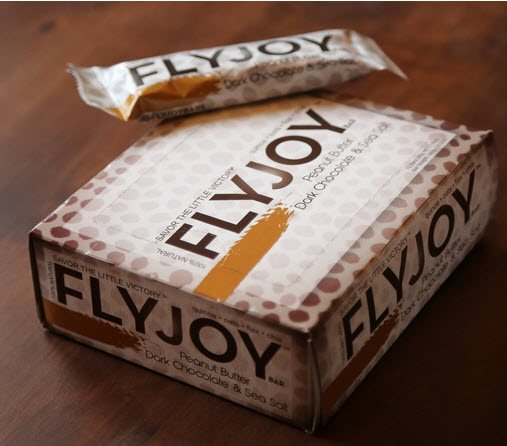 I feel like it's been forever since I did a giveaway on Espresso and Cream! Maybe it's because it has been forever. I've been trying to cut back on the giveaways and focus on only promoting products I really love and am passionate about, meaning fewer giveaways. But! When I do have a product I'm excited about, I have to let you in on it.
When I was home over the holidays, I had the opportunity to sample my cousin's new nutrition bars. Branded under the company name Fly Joy, the bars are made with a bunch of good-for-you ingredients like quinoa, oats, flax and chia seeds. And for those eating a restricted diet, they are also gluten-free, dairy-free and soy-free.
I tasted all three flavors of the bars (and got a bunch to take home with me to pass along to friends, family and co-workers) and was blown away by the taste and texture. I'm not joking when I say that they're amazing. Joe and I both agreed that our favorite flavor is the Peanut Butter, Dark Chocolate & Sea Salt. Seriously?! So good. They also have Coconut-Almond and Espresso Dark Chocolate flavors.
So, seeing as that I love these bars and want you to be able to try them, too, I'm giving away a box of the flavor of your choice to one lucky reader. There are four different ways to enter to win. See below for the details! And if you don't happen to win, you can purchase a case for yourself on Amazon.
Good luck!
Madison