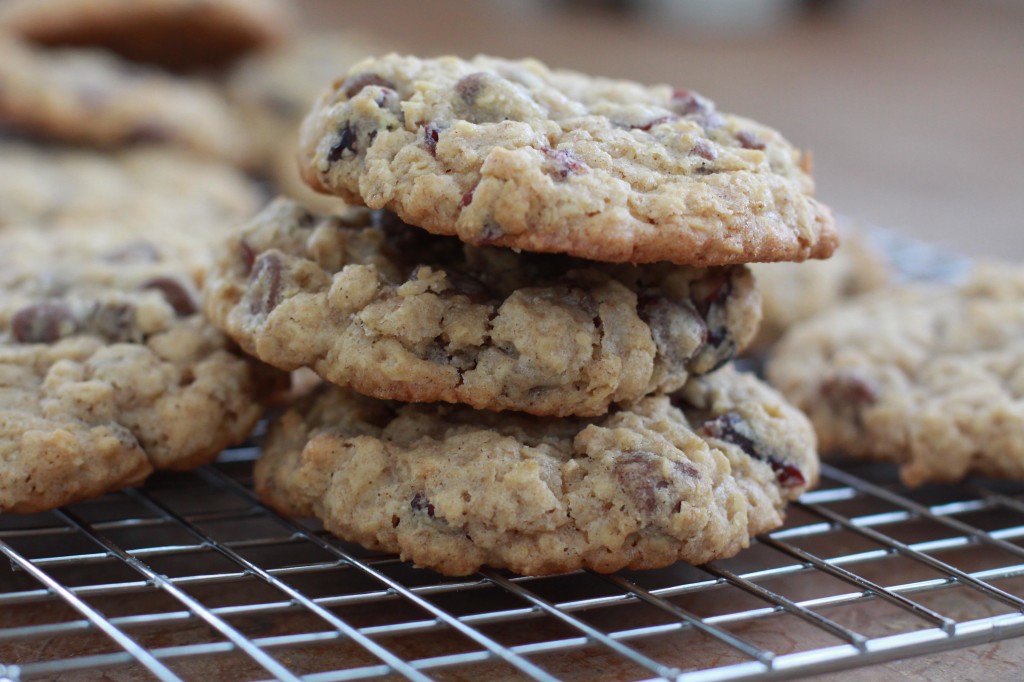 Now that January is almost over I'm allowed to start posting cookie recipes again, right? Right. After all, Valentine's Day is just around the corner, which means all resolutions to eat less sweets will pretty much be thrown out the window in favor of chocolate, chocolate and more chocolate.
I never get sick of the process of baking cookies. Something about creaming the butter together with sugar, listening to the hum of the electric mixer, seeing the dough come together, it's all incredibly relaxing. Despite the fact that I cook and bake and create recipes for a living, I still find that my greatest source of relaxation is having time to work in the kitchen without being rushed. Taking my time, sipping coffee as I work, listening to music drifting through the house. It's not always that way, with the rushed dinner making on weeknights and frantic effort to get a million things done in a very short amount of time, which makes the relaxed moments just that much sweeter.
The only thing better than a slow and lazy day of baking is a hot bath. I'm convinced that a hot bath cures almost anything. But that really has nothing to do with cookies, so….
These cookies! They're absolutely amazing. They're based on my mom's favorite cookie recipe from Ina Garten, but instead of adding semi-sweet chocolate and raisins and pecans, I added dark chocolate morsels and dried cranberries. They're sweet and salty and tangy all in a single bite. Crisp around the edges and chewy in the center, as all good cookies should be, in my opinion.
If you're looking for a cookie that's fancy and impressive enough to serve as dessert at a dinner party, this would be the cookie. They're large, bakery-style cookies and go perfectly with a cup of decaf espresso. Something about serving cookies for dessert just puts everyone at ease, doesn't it? So go, bake some cookies this weekend, have a friend over for coffee and eat cookies while catching up on life.
Oatmeal, Dark Chocolate and Cranberry Cookies
Makes 24 cookies
Adapted from The Barefoot Contessa's recipe for Raisin Pecan Oatmeal Cookies
Ingredients
2 sticks butter, softened
1 cup light brown sugar, lightly packed
1 cup granulated sugar
2 large eggs
2 teaspoons vanilla
1 1/2 cups all-purpose flour
1 teaspoon baking powder
1 teaspoon cinnamon
1/2 teaspoon salt
3 cups old-fashioned oatmeal
1 3/4 cup dark chocolate morsels
1/2 cup sweetened dried cranberries
Directions
Heat oven to 350°F. Line two large baking sheets with parchment paper. Set aside.
In bowl of an electric mixer, beat together butter, brown sugar and granulated sugar until fluffy, about 3 minutes, scraping down the sides of the bowl as necessary. Beat in the eggs and vanilla until combined. 

In large bowl, whisk together the flour, baking powder, cinnamon and salt. Add dry ingredients to wet ingredients and beat until just combined. Beat in the oatmeal, followed by the chocolate morsels and dried cranberries.
Use a small ice cream scoop or two large spoons to scoop mounds of dough onto baking sheets, about 1 inch apart. Bake 14 to 15 minutes or until edges are golden brown. Cool on baking sheets 5 minutes. Transfer to wire racks to cool completely.
Happy Baking!
Madison