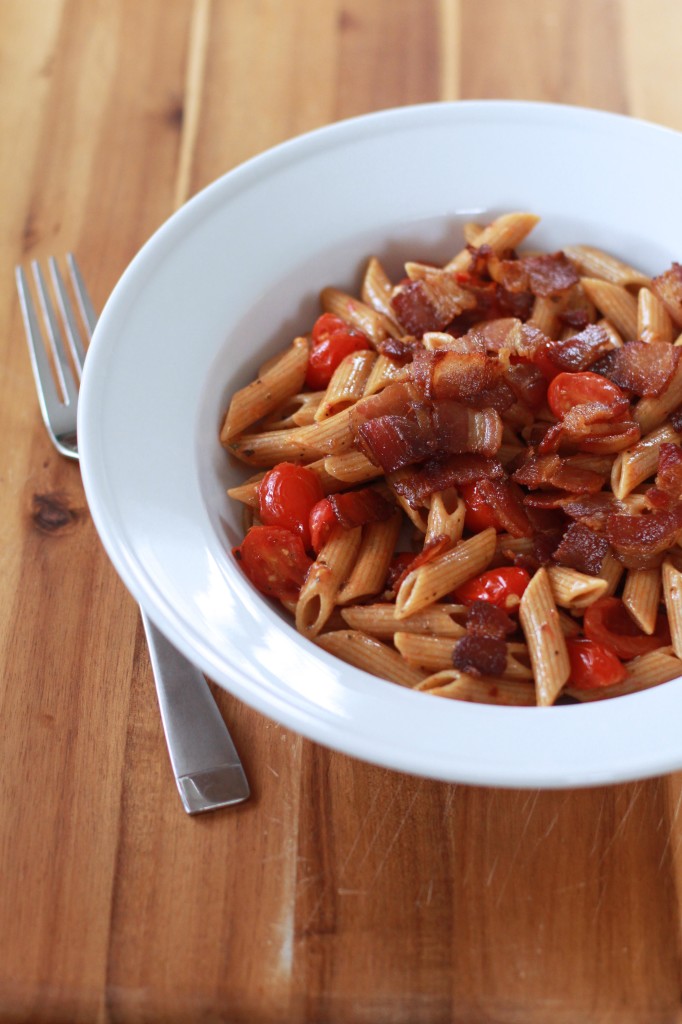 Before I share this recipe with you, I should clarify that while a lot of my recipes are on the healthier side, this recipe isn't winning any awards for being health conscious. However, when I threw this meal together last week for Joe after a trip to the gym, he raved about how delicious it was and demanded that I blog about it. Usually Joe isn't one to demand I blog about anything, so when he insisted I obliged. In fact, I made a batch of this pasta earlier in the week and put it into lunch containers immediately so that Joe would be able to enjoy lunches at work that were better than turkey and cheese or PB&J.
If you're a fan of meals that are quick and easy to throw together and require very few ingredients (and really, who isn't?) then you will love this recipe. I've tried it both warm and cold and can say that both ways are delicious, although I do prefer it warm since the flavors are more pronounced.
After making this dish a couple times, I've been thinking of ways to add a little freshness to this dish, mainly something green. Although I didn't add any, a couple handfuls of arugula or a little fresh basil would be a great addition. Let me know if you try it and add anything different to your version, since I'm always looking for ways to adapt dishes and keep things fresh.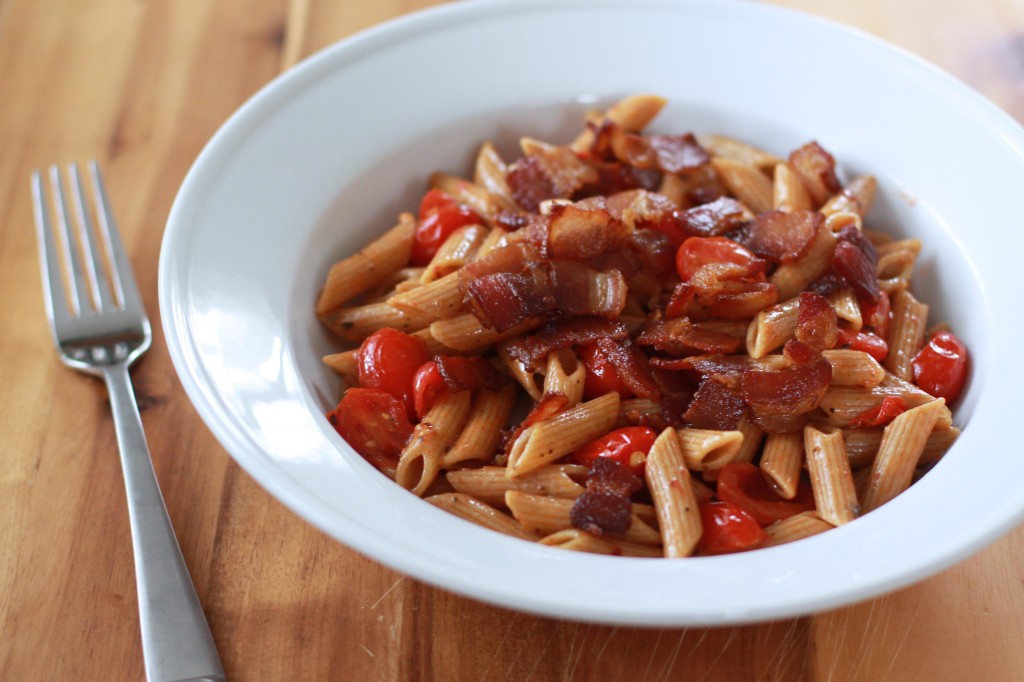 Quick and Easy Bacon-Tomato Penne
This is Joe's new favorite dinner, and I don't mind making it because it's so incredibly easy! This makes enough to serve two generously, or three smaller portions. It's usually enough for Joe to eat for dinner one night and have leftovers to take to work the next day.
Ingredients
4 strips of bacon
2 cups whole wheat penne pasta
1 cup cherry tomatoes, halved
1 tablespoon butter
½ teaspoon dried oregano or basil
¼ teaspoon red pepper flakes
Instructions
Cook pasta according to package directions; drain.
Meanwhile, cut bacon into small pieces. Place bacon in a large skillet over medium heat. Cook, stirring frequently, until bacon is very crispy and deeply colored. Use a slotted spoon to remove bacon from skillet and transfer bacon to a paper towel-lined plate to drain.
Add tomatoes to skillet with bacon drippings and cook tomatoes over medium high heat 2 to 4 minutes or until tomatoes are softened slightly. Add butter, oregano and red pepper flakes to skillet along with cooked pasta.
Divide pasta mixture among two bowls. Top with the bacon. Serve immediately.