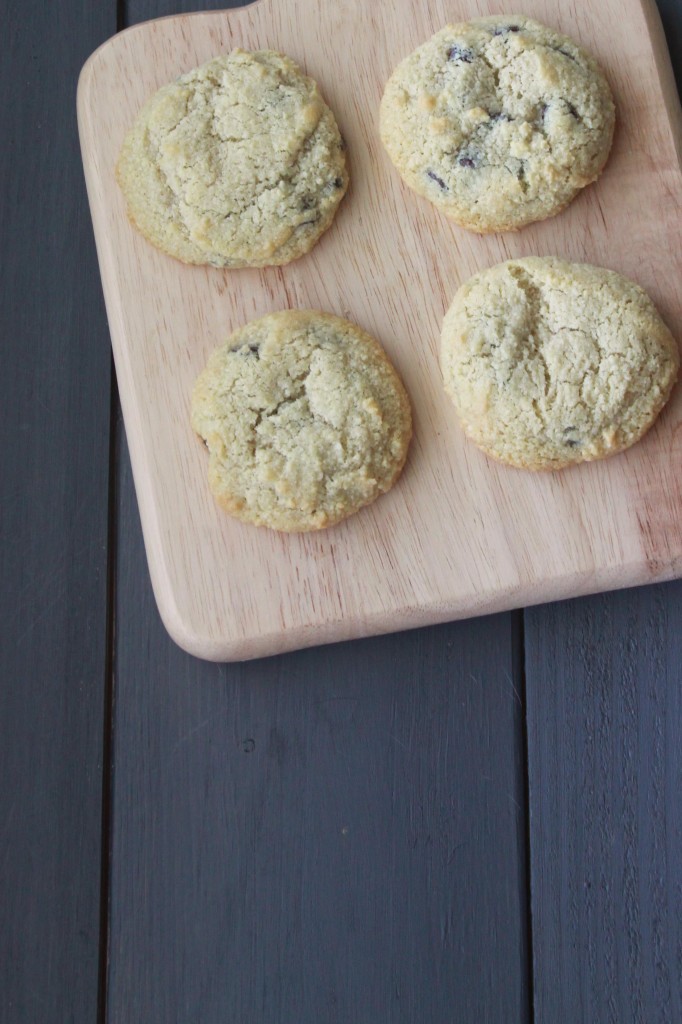 I mentioned on Instagram this past weekend that I had a great small-batch chocolate chip recipe for you. Since a lot of you mentioned you were excited about the recipe, I figured it's best not to keep you waiting any longer than necessary. Over the years there have been many times when I want just a little something sweet. I don't want to bake two dozen chocolate chip cookies because of the time and hassle and amount of ingredients required, so this weekend I took one of my favorite chocolate chip cookie recipes and scaled it down to make only 4 cookies instead of a dozen or two.
The recipe is an almond flour based cookie that doesn't contain any "specialty" ingredients, like starches or specialty flours, just a little almond meal and some basic cookie ingredients like butter, sugar and chocolate chips. Since the cookies are made with almond meal they have a slightly different texture than a cookie made with all-purpose flour, but I can assure you they are still very soft, chewy and totally delicious.
Next time you're looking for an easy little recipe that makes just a few cookies to satisfy a craving, I would highly suggest these little gems. And in case you're interested, I've also included nutritional information in the recipe heatnote. These aren't exactly "diet" cookies, but the clean ingredient list can make you feel good about eating a cookie, or two. I promise I won't tell anyone.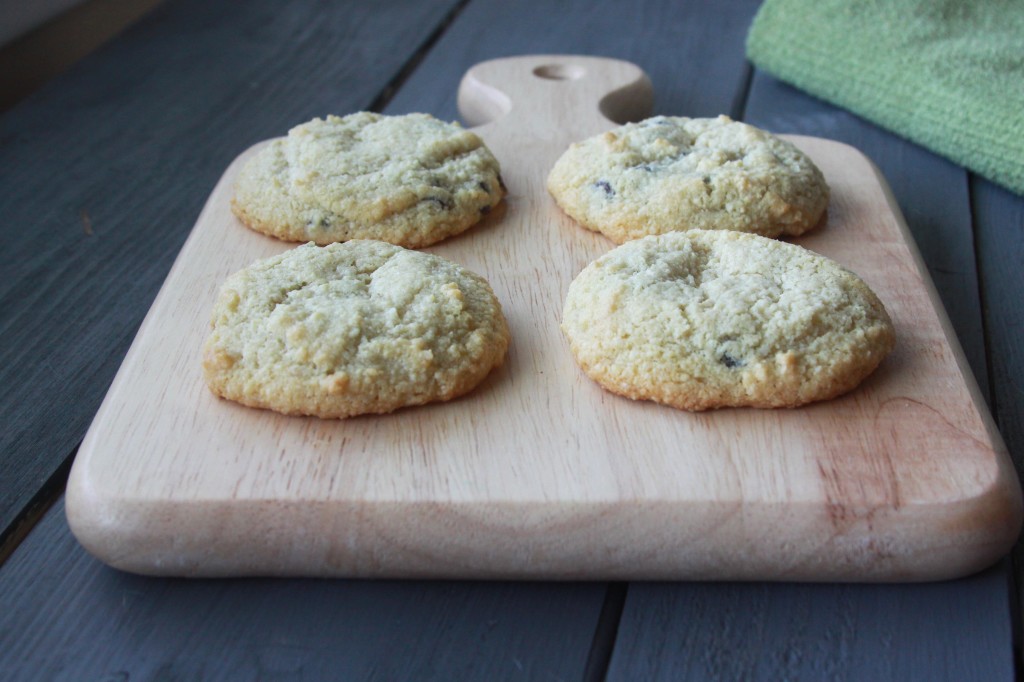 Small Batch Chocolate Chip Cookies (4 Cookies)
Author:
Espresso and Cream
This recipe only makes 4 cookies so it is perfectly portion controlled! Each cookie has approximately 240 calories, 5 grams of protein and 2 grams of fiber.
Ingredients
¾ cup almond meal
2 tablespoons sugar
¼ teaspoon baking soda
Pinch of salt
1 egg yolk
2 tablespoons butter, softened
½ tablespoon almond milk or other milk of choice
¼ teaspoon vanilla extract
2 tablespoons chocolate chips, non-dairy chocolate chips or cacao nibs
Instructions
Heat oven to 350F. Line a baking sheet with parchment paper or a nonstick baking mat (such as a silpat) and set aside.
In a small bowl, combine the almond meal, sugar, baking soda and salt. Set aside.
In a second small bowl, combine the egg yolk and butter until smooth and well combined. Add in the almond milk and vanilla extract.
Add wet ingredients to dry ingredients and stir with a rubber spatula until evenly combined. Stir in the chocolate chips.
Scoop dough by heaping tablespoons onto baking sheet. Bake 9 to 12 minutes or until edges are golden brown. Cool 5 minutes on baking sheet. Transfer to wire rack to cool completely.