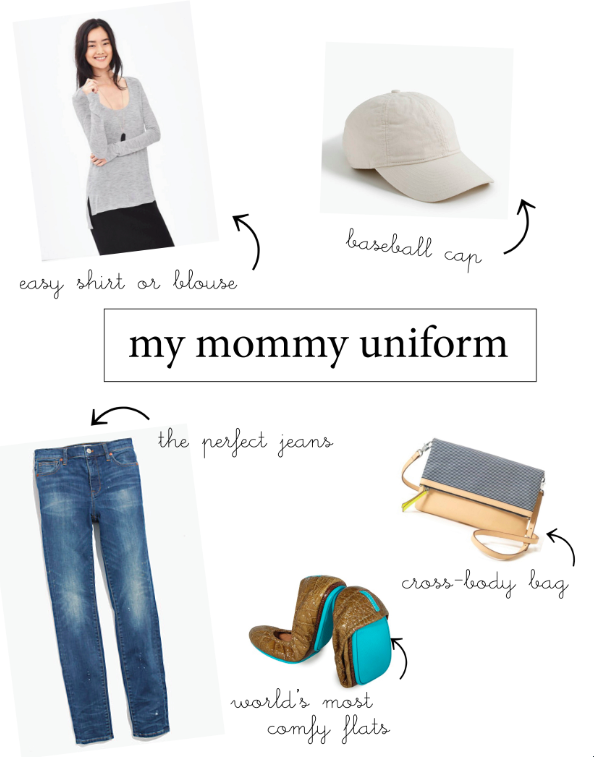 When I first transitioned from pre-baby life in the corporate world to my new life as a freelancer and mom, I had a little bit of a style identity crisis. My body had gone through so many changes and sizes, I didn't have use for all the corporate dress clothes that I wore before baby, and the only clothes I had purchased for the cooler weather were last year's maternity items. I was more than a little lost!
Over the last number of months I've gradually found my groove and discovered what I think is the perfect mommy uniform. It's easy, effortless and, most importantly, comfortable. After becoming a mom I realized that my clothes can't just be cute, they also need to be 100% functional.
PS: If you're a mom, I can't recommend Madewell's jeans enough. I know I've said it before, but their high-riser skinny jeans are a mom's best friend. The fit is SO flattering and really gives you enough coverage to be as active as you need to be as a mom. They are certainly an investment, but with the number of times I've worn them in the last six months it's an investment that is worth it!
1. Modal Scoop Neck Tee // Banana Republic
2. High Riser Skinny Jeans in Dayton Wash // Madewell
3. Sienna Brown Croc Flats // Tieks
4. Waverly Petite Breton Stripe Bag // Stella & Dot
5. Solid Cotton Baseball Cap // J. Crew