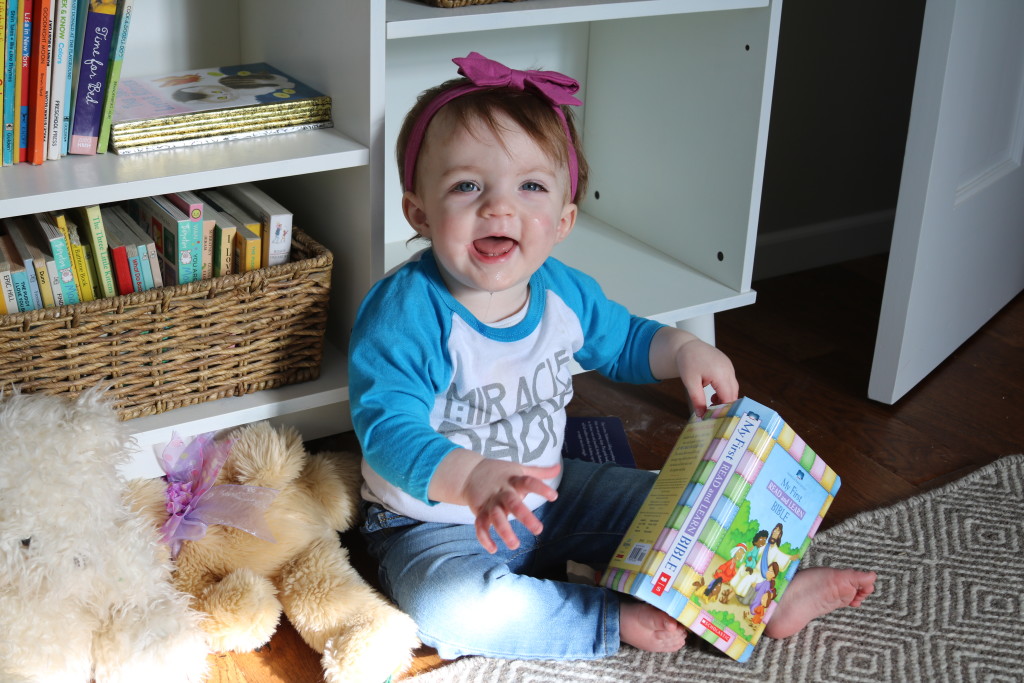 I realized I talk about motherhood in a general sense quite frequently, but I rarely talk about Ainsley specifically. As she grows and becomes her own little person, I've been thinking a lot about her privacy and how much or little to share online. There is a delicate balance to strike, that's for certain, but I am so thankful for each and every one of you who prayed for her and want you to share in the JOY that she brings to our lives.
I'm sure that all parents say this, but Ainsley is a very special baby. There is no other way to say it, but this kid radiates joy wherever she goes. Her personality is bright, fearless and bursting with energy. She is go-go-go all the time and getting a photo of her sitting still took at least 50 tries. How did I get her to smile in that photo above? I roared in her face like a lion. Ha! She loves loud, rough and rambunctious play, like going "way back" (aka upside down), being on dad's shoulders, bouncing with dad on the bed and flying around the room Superman-style.
The last couple months she has shown a lot of interest in balls – tennis balls, basketballs, Pippa's toy balls, etc. Joe already has high hopes she will be an athlete, but her no-so-athletic mother is trying to temper his hopes and enthusiasm in case she gets her mom's genes.
We read to her constantly, and she's developing a pretty good attention span most of the time. She's babbling a lot these days, but I don't think she really understands what she is saying. She says "dada" and "mama" a lot and her new word/sound is "nuh" which she says all the time. I'll walk around the house with her, talking to her as we go, and she just responds with "nuh" again and again. Let's hope this isn't a precursor to "no!" She also does a lot of loud, happy yelling, which is sometimes funny and other times not so funny, like when we are out in public.
Ainsley still wakes up once in the early morning hours, around 4 or 5 am. She used to take a bottle and go back to sleep, but the last few weeks we've just been giving her a little water. I'm not sure why she does this little wake-up, since she is obviously not hungry, but our new routine is a little bit of water in a sippy or bottle, then she rolls over and lays her head on my chest with her eyes open. She just lays there, soaking in the cuddles, until I set her back down and she goes right back to sleep. It's really really precious. And dare I say I sort of love our little pre-dawn routine? She isn't a very cuddly baby, so I'll take my cuddles when I can get them.
When she turns 1 year old next month (what? where did the time go?) we will have to have a scan of her spine and a follow-up optometry appointment as a routine part of her pediatric follow-up for some of the issues she was born with. We have no real reason to believe that it will be anything but good news, but I'll be happy to have those tests done with and in the past as soon as possible. Prayers for a smooth process and good results would be appreciated!
Lastly, I feel like I need to say a giant "THANK YOU" to all of you out there reading who have followed this story of ours, prayed for our baby, cared for our family and encouraged us (particularly me!) along the way. I've met so many people this last year who have told me they've prayed for us and our sweet baby, and it brings me to tears every single time. I look at Ainsley and thank God for the gift that she is, and the sheer miracle of her presence. We're humbled and thankful daily, and blessed to be able to share her and her updates with you all. #sappymom
Madison