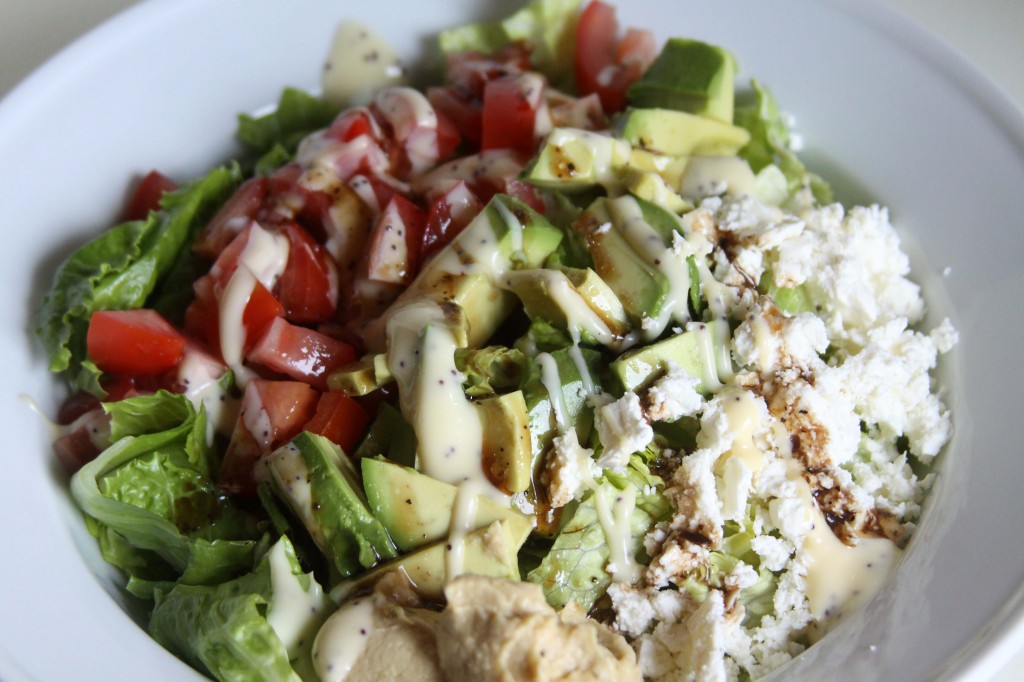 Since we're enjoying that time in the season where the last of summer produce co-exists with the beginning of fall favorites, I've been trying to enjoy both while I can! We still have a container filled with fresh tomatoes from my mother in law's garden (so much more flavorful than anything you could buy at the store) and I've been stocking up on the ripe, creamy avocados that don't cost a fortune right now.
My favorite part about the days I work from home is that I can take a little time to prepare a lunch for myself. Instead of cramming whatever I can find in the fridge into my lunch container and running out the door in a rush, I have a fridge full of options at my disposal. Usually, I take the opportunity to prepare myself a giant salad packed full of whatever is on hand in our fridge.
This salad is ultra-simple and doesn't really deserve a recipe. But it's also incredibly delicious and is worth mentioning in case you're looking for a little lunchtime (or dinnertime) inspiration.
Avocado, Tomato and Feta Salad
Ingredients (serves 1)
*1 heart of Romaine lettuce, chopped
*1/2 medium avocado, peeled and chopped
*3 to 4 cherry or grape tomatoes, quartered
*1 oz. feta cheese, crumbled
*1 tablespoon poppy seed dressing
*1 tablespoon balsamic vinaigrette or balsamic vinegar
*2 tablespoons hummus (served on the side, optional)
Instructions
*Toss the ingredients for the salad together. Serve with hummus and toast, if desired.
Happy Cooking!
Madison