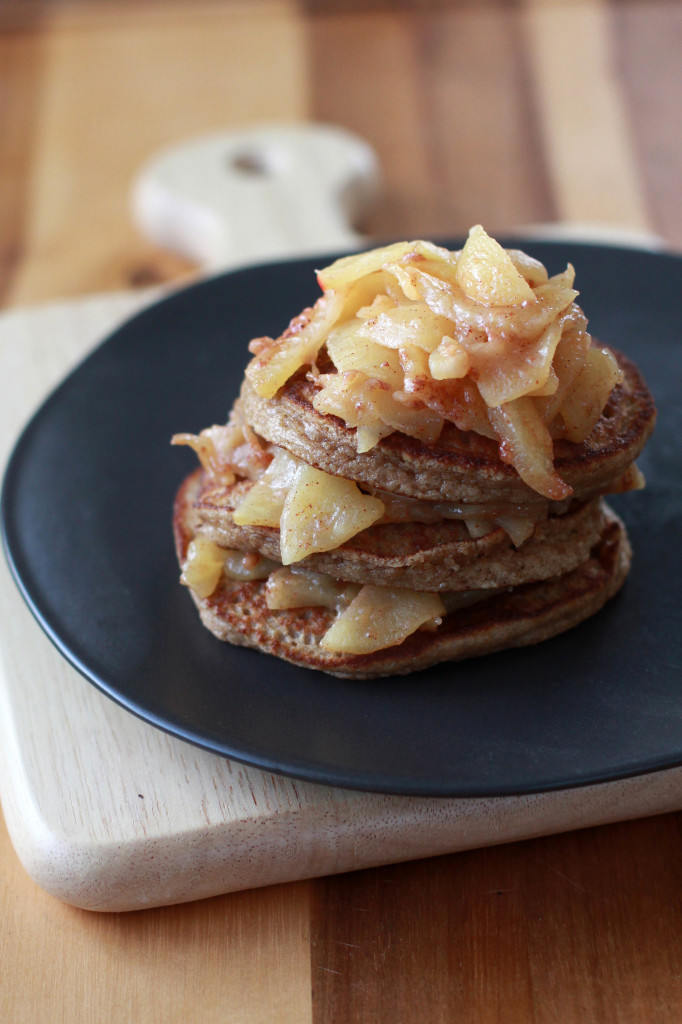 Is there anything better than weekend breakfasts? Joe and I make a point to eat breakfast together almost every morning. We're even the crazy people who wake up an extra hour earlier than we need to because we want time to drink coffee, eat breakfast, talk and watch a little morning news. Weekend breakfasts, however, are an entirely different thing. We have time to wake up a little later and still soak up a few hours together, drinking cups and cups of coffee and lounging around in our pajamas, playing with the pups.
During the weekdays we stick to our routine of oatmeal or oat bran for ease, taste and convenience. But on the weekends, we get a little more creative. Eggs, bacon and homemade biscuits are a favorite, homemade pancakes, yogurt bowls with chia seeds and berries and plenty of drippy almond butter.
Although I love pancakes first thing in the morning, particularly of the whole grain variety, I don't love the fact that they leave me hungry only a couple hours later. Almond meal pancakes, I've found, keep me full much longer probably due to the fact that they contain protein.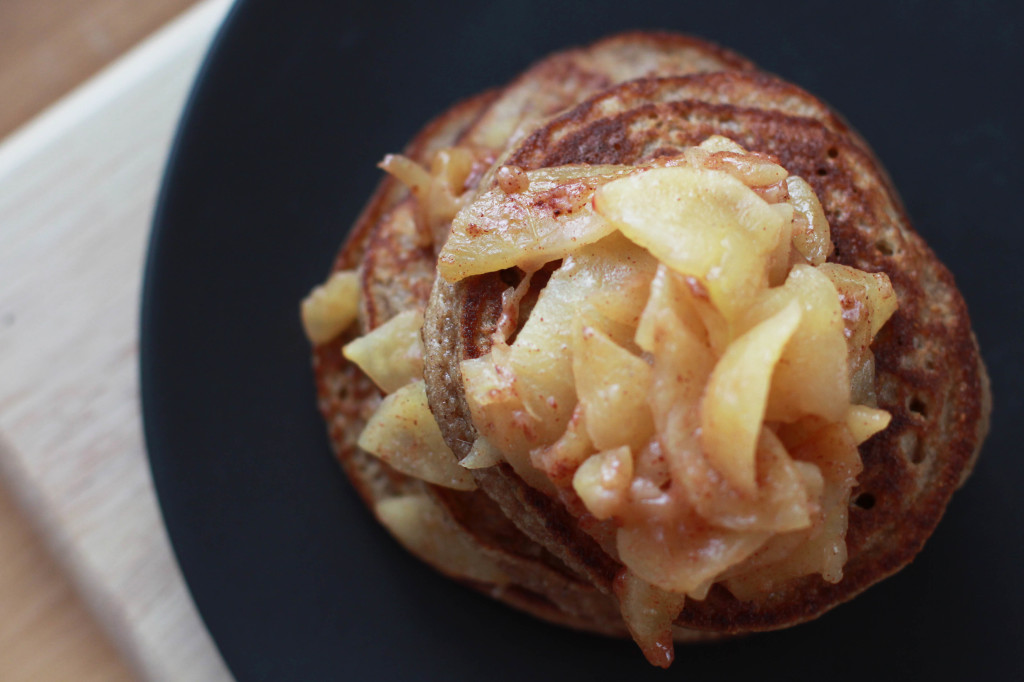 For a while now, I've been making a quick "apple pie" mixture by mixing apple slices, a little brown sugar and butter, cinnamon and flour and microwaving the mixture for a couple minutes until soft and delicious. It's amazing how much it tastes like apple pie and satisfying dessert cravings without totally blowing the rest of your day. I don't know why it took me so long to figure out that combining this apple mixture with almond meal pancakes would create a breakfast nirvana, but I'm glad I finally did!
If you're looking for a slightly more involved but totally delicious breakfast that's worth every bit of effort, make time for these Apple Pie Almond Meal Pancakes. I usually steer clear of overly sweet breakfasts, so I don't care for maple syrup on my pancakes, but I think most people wouldn't mind a warm drizzle of maple syrup for moisture and sweetness.
Apple Pie Almond Meal Pancakes
Pancakes 
1 large egg
1/4 teaspoon cinnamon
1/4 teaspoon vanilla
1/4 teaspoon baking soda
2 tablespoons unsweetened almond milk
1 tablespoon brown sugar (you could swap out the brown sugar for a little maple syrup or stevia)
3/4 cup almond meal (I used Bob's Red Mill brand)
Apple Compote
1 large apple, peeled, cored and thinly sliced
1/4 teaspoon cinnamon
Very small pat of butter, melted (maybe 1/4 tablespoon or a little less)
1 packet stevia or 2 teaspoons brown sugar
1 teaspoon all-purpose flour
Directions
In medium mixing bowl, combine egg, cinnamon, vanilla, baking soda, almond milk and brown sugar or other sweetener of choice. Whisk until well combined. Mix in the almond meal until combined.
In a medium nonstick skillet over medium heat, melt a small amount of butter or spray with nonstick cooking spray. Spoon batter by the 1/4 cupful into pan. Cook 2 to 3 minutes or until edges are set. Flip, cook 1 to 2 minutes more or until pancakes are cooked through in the center.
In small microwavable bowl, combine apple, cinnamon, melted butter, brown sugar and flour. Stir until evenly combined. Microwave 2 to 2 1/2 minutes, stirring once halfway through, until apples are softened and cooked with just a bit of crunch remaining.
Layer apples and pancakes in a stack. Serve with a little maple syrup, if desired. Serves 2
Happy Cooking!
Madison