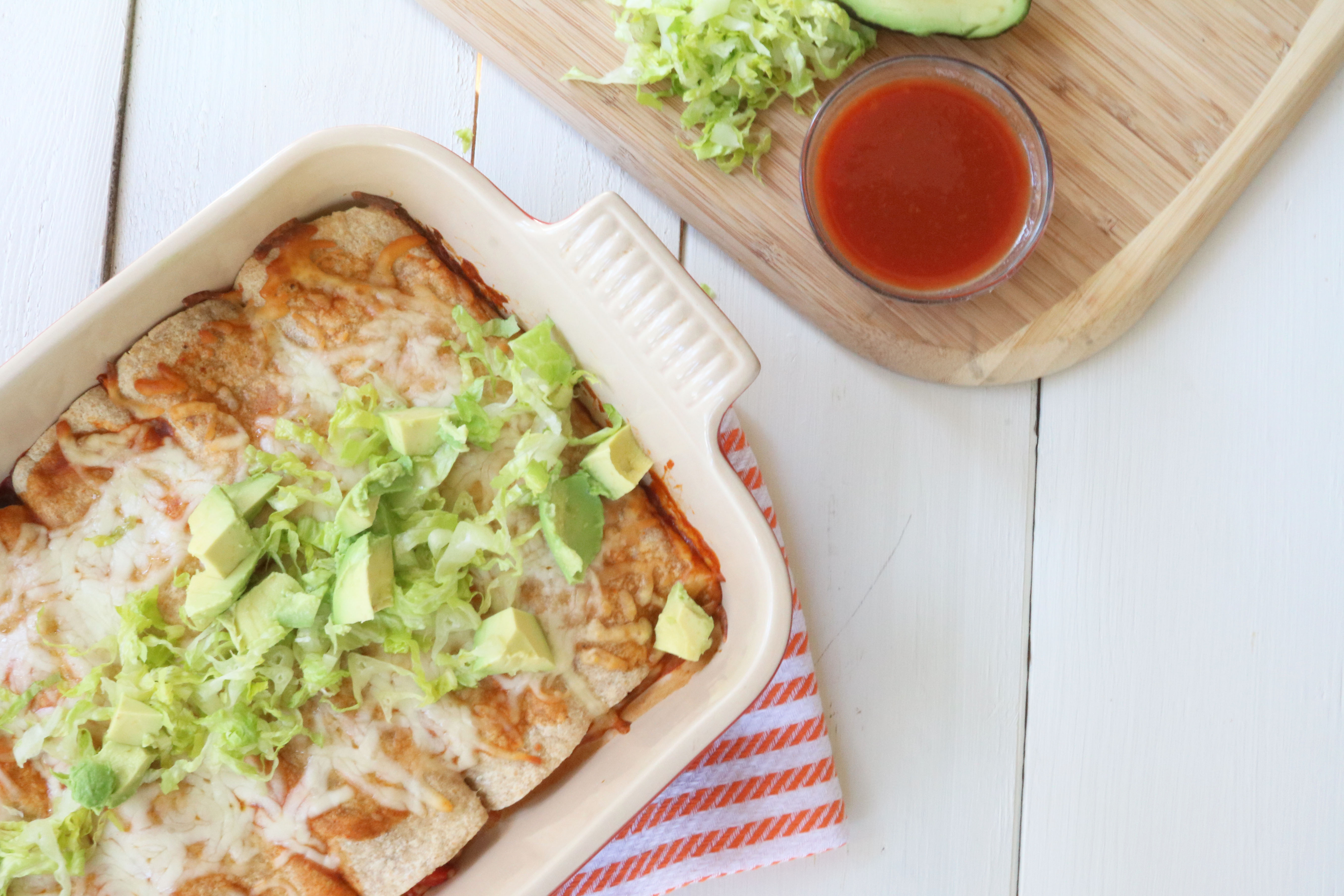 Easy weeknight meals. Gosh, isn't everyone in search of more of those? Honestly, despite the fact that the kitchen is my happy place, I still get flustered and frustrated about weeknight dinnertime. We all know how rushed it can feel to get a meal on the table in the short two hours between 5 and 7. You know, after work and before the kiddos totally melt down and refuse to eat because they are tired? The rush to eat dinner, get bath time done, read books and drink bottles and get everyone to bed and I hate when that time feels like a giant race against time.
Hence, I'm always looking for easy meals that can be made in advance so the night is less stressful and everyone is well-fed and happy. Enchiladas have always been a go-to recipe for our family because they're easy and can be customized in so many different ways.
Have a lot of leftover veggies? Toss them into enchiladas. Left over cooked chicken? Enchiladas! You get the idea…
I made a version of these enchiladas a few weeks ago when friends were in town. They were so easy to pull together and provided me with a vegetarian option to enjoy. I also made a pan of Green Chicken Chile enchiladas that night, but these were just as popular! The recipe includes an option to make them non-veg, or partially veg (half pan for the vegetarians in your life/half for the meat eaters!) so there are a lot of ways this recipe can go. Don't feel stuck by the ingredients I used. Customize them using this recipe as a base.
To make this in advance, prepare/assemble the enchiladas but stop before baking them. Cover and store in the refrigerator for 24 hours, then bake as directed!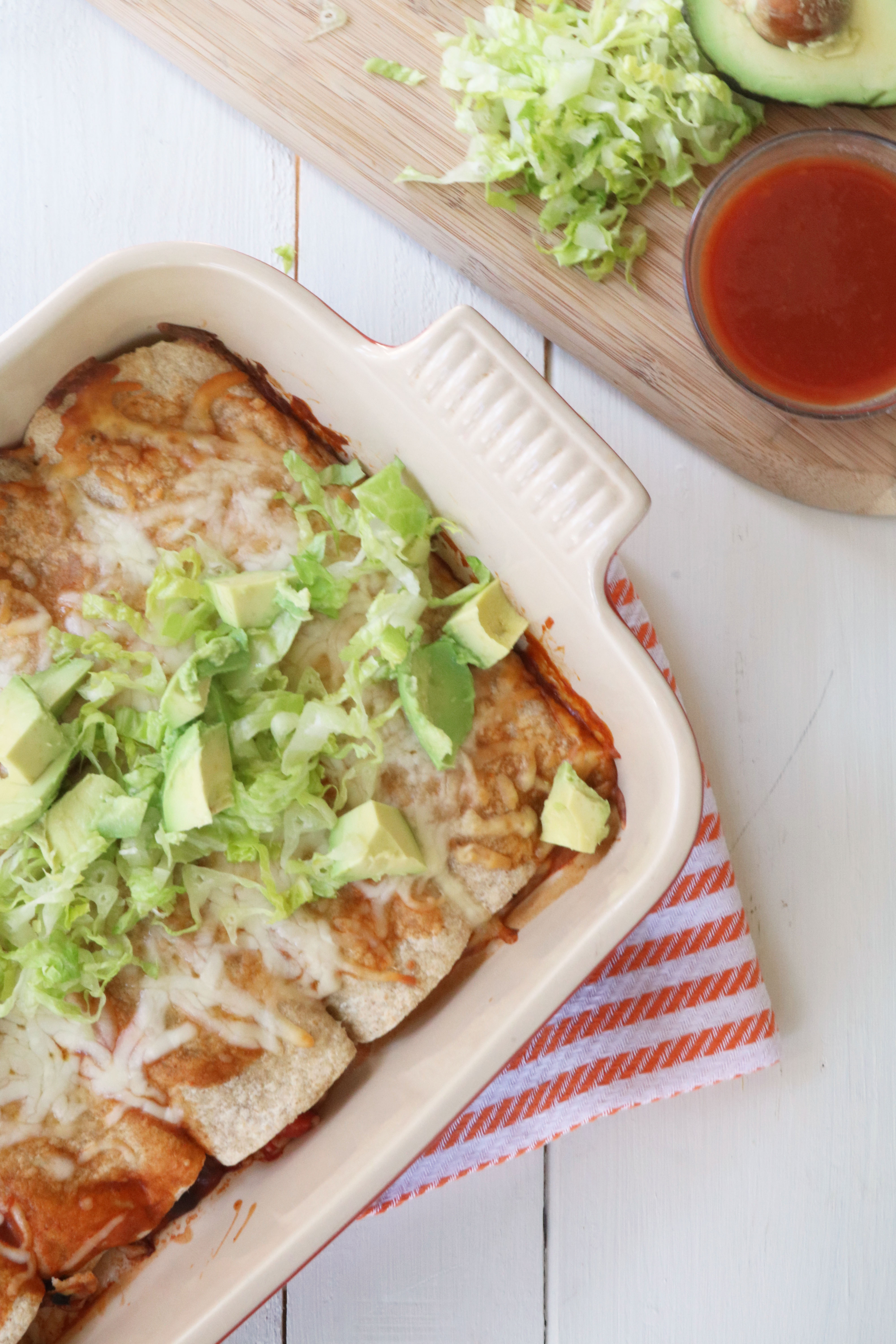 Easy Weeknight Meal // Black Bean & Grain Enchiladas (Vegetarian + Non Veg Versions)
Author:
Espresso and Cream
Ingredients
1 can (10 oz.) mild, medium or hot red enchilada sauce
1 can (14- to 15 oz.) diced tomatoes, drained
1 can (15 oz.) black beans, rinsed and drained
1 cup cooked farro, brown rice or quinoa
1½ cups shredded Monterrey Jack cheese
1 teaspoon cumin
1 teaspoon dried oregano
½ teaspoon garlic powder
6 whole wheat tortillas
Shredded lettuce, avocado and salsa, if desired
*Non-Veg Alternative // Swap the can of black beans for 1 lb. of browned and drained ground beef. Alternately, you could make this veg and non-veg like we do, and do black beans in half the enchiladas and ground beef in the other half, using ½ the amount of both ground beef and black beans.
Instructions
Heat oven to 350°F. Grease a 13x9-inch baking dish with non-stick cooking spray. Spread ¼ cup of the enchilada sauce in the bottom of the baking dish. Set aside.
In a large mixing bowl, combine the tomatoes, black beans, farro (or other grain of choice), ¾ cup of the cheese, cumin, oregano and garlic powder. Stir until well combined. Add all but ¼ cup of the remaining enchilada sauce and stir.
Divide the mixture between the six tortillas. Roll up tortillas and place them in the prepared baking dish. Spread remaining ¼ cup of enchilada sauce on top of tortillas. Sprinkle with the remaining ¾ cup cheese.
Cover pan with foil and bake 30 minutes. Remove foil and bake 15 more minutes or until cheese is bubbly and melted. Serve with lettuce, avocados, salsa and other desired toppings.